Tang Keshuai has been down in the dumps for months, ever since he began to feel the pinch of a constrictive money supply since mid March.
Tang, manager of Langyu Plastic and Rubber Co. Ltd., a plastic and rubber product producer based in east China's Wenzhou, Zhejiang Province, used to settle his accounts with raw material suppliers once every four months, on the traditional Chinese lunar festivals of Dragon Boat, Mid Autumn and Spring Festival respectively.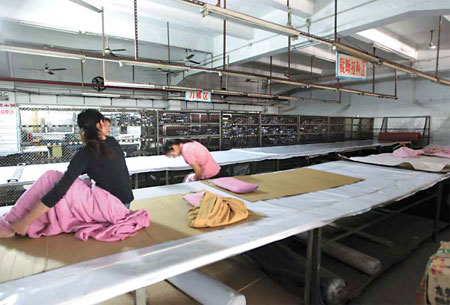 Two women make beds on a production line of the small private firm Nangang Shoemaking Factory in Foshan, Guangdong province. [China Daily] 
But the rule was changed in mid March when raw material suppliers asked for accounts to be settled once each month. The change was not a good one. The original four-month span allowed Tang to have sufficient active money in his capital chain.
Capital pressure from upstream was one part of the story. Tang received smaller orders over the past months. In the first three quarters, Tang's company had only 3 million yuan (US$439,090) sales turnover, compared with 20 million yuan in 2007.
Tang had to dismiss 30 out of the 50 staff workers in August and transferred most orders to other plants, in order to lower production costs by 10 percent.
Tang was amazed to find it hard to transfer the orders. "I felt curious in the beginning why it was hard to seek processors, since orders became fewer on the market," said Tang. Longgang Town, home to Tang's company, currently has only about 100 plants of his type, while there were about 600 such plants a year ago.
In early June, Tang's company had almost exhausted its supply of cash, with only 200 yuan left in the account. Tang had nothing else to do except to driving his three-year-old daughter to the kindergarten. Two days later, he had to borrow money from his sister to "have meals". He continued for 10 days, and only pulled through the crisis when a Russian client remitted US$30,000 to his account.
"I was lucky to stick it out. But many companies have closed down because of a broken capital chain," said Tang.
During the current Wall Street-ignited global financial crisis, China's small and medium-sized enterprises (SME), largely labor-intensive and vulnerable to fluctuations in domestic and external demand, are affected most.
In the first half of 2008, 67,000 SMEs, each with sales income exceeding 5 million yuan, closed down, laying off more than 20 million employees, said the National Development and Reform Commission (NDRC).