The government plans to increase the retail fuel consumption tax from January, as part of a major fuel price reform package and a crucial step toward forming a market-based oil pricing mechanism, it was announced on Friday.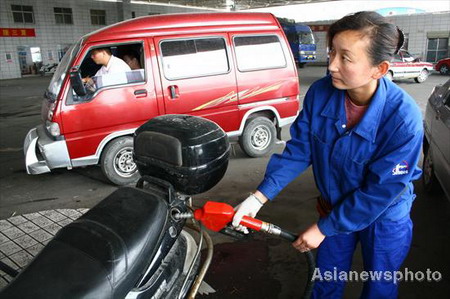 A gas station worker pumps a motorcycle with gasoline at a petrol station in Fuyang, Anhui province, in this file photo taken on June 4, 2008. China has proposed a reform of the fuel tax that would raise tariffs for gasoline and diesel while eliminating other fees for drivers. [Asianewsphoto] 
With the reform in place, the country's crude oil prices will be more directly linked with prices on the international market, according to a long-awaited draft fuel pricing reform bill, announced by the National Development and Reform Commission (NDRC), China's top economic planning body, and three other government agencies to solicit public opinion.
Starting from January, the consumption tax on gasoline will increase from 0.2 yuan to 1 yuan per liter and the tax on diesel will rise from 0.1 yuan to 0.8 yuan per liter, according to the draft plan issued on Friday.
But the government will impose a ceiling on retail oil prices, according to the plan, which was jointly issued by the NDRC, the ministries of finance and transport, and the State Administration of Taxation.
Related readings:


Scheme for fuel tax reform unveiled


Oil falls for fifth day in a row


'Clean' diesel cars may worsen air pollution
Under the scheme, six categories of fees including road tolls, waterway maintenance fees and waterway management fees will be eliminated.
"It's a long overdue move," said Ma Qing, chief economist with CITIC Securities.
"The recent slump in oil prices has given the government a good opportunity to push through the reform," Ma said, pointing to the global crude oil price, which has tumbled more than two-thirds from a record high of $147 a barrel in June to about $44 a barrel on Friday.
The proposed reform, Ma said, is fairer compared with the current road toll systems.
"The pricing reform will also mean that oil prices experience less wild fluctuations in the future," the economist said.
But the government will continue to retain appropriate controls on the prices of refined oil products, the draft plan said.
Under the new pricing system, the "pricing of domestic refined oil should not only reflect fluctuations in international oil prices and production costs, but also take into account domestic oil supply and demand," it said.
Tax revenues raised from the scheme would be used to cover expenditure on road and waterway maintenance and management, subsidize losses suffered by local governments due to the abolition of road tolls, and support farmers and disadvantaged people affected by the reform, the draft plan said.