Li Shuo will never forget what she did this summer.
"I was part of the Olympics," the 20-year-old student from the Beijing University of Chinese Medicine said.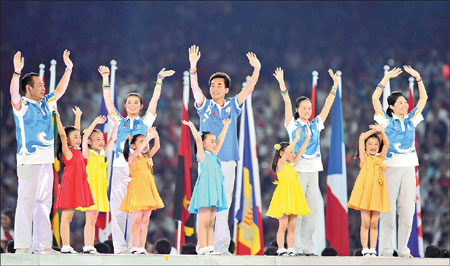 Representatives of more than 70,000 volunteers of the Beijing Olympics receive applause during the Closing Ceremony of the Games on August 24th at the Bird's Nest. [China Daily] 
Li was not an athlete taking part in the Games, but did what many would also think was equally meaningful - serving as a volunteer for her Olympic host city.
"I feel so lucky and proud to have been a part of such a historic event and it will probably be the most valuable chapter of my life," Li told China Daily Thursday, the eve of International Volunteer Day.
Li took part in the Olympic volunteer training program, working as a media shuttle bus assistant and helping journalists get around Games venues such as the Bird's Nest and Water Cube.
"I met a lot of people, improving my English and communication skills. It was a once-in-a-lifetime experience," Li said.
She was among the 500,000 Olympic volunteers who helped the capital host the world's largest sporting event.
When 12 Olympic volunteer representatives received awards from the Olympic champions at the closing ceremony of the Beijing Games, Chinese volunteers were said to have gained worldwide recognition for their devotion and professionalism during the Olympics and Paralympics.
The accolades themselves followed a wave of volunteerism after natural disasters such as the snowstorms at the beginning of the year and the May 12 Sichuan quake hit the country, when millions of Chinese countrywide took part in disaster relief.
Media reports have marked 2008 as a milestone in volunteerism in the country.
Nearly 30 million registered volunteers have so far provided more than 268 million cases of voluntary service in fields such as poverty relief, community work, environmental protection and major social events, figures from the volunteer department of Chinese Communist Youth League (CCYL), the country's largest volunteer mobilizer, have shown.
About 1.7 million volunteers were involved in the Beijing Games this year alone, while 5 million volunteers took part in relief work for the May 12 Sichuan quake, CCYL volunteer department director Xu Xiao told China Daily yesterday.
"Volunteer work in China is in full blossom this year," Xu said.
"The work of the volunteers has been widely recognized and the concept of volunteerism has reached almost every corner of our society playing an active role in building up a harmonious society."
Still, Xu said passion for volunteer work has "cooled" after the Olympics.