The government Wednesday unveiled a raft of measures to encourage lending by financial institutions to infrastructure projects, small businesses and potential home and car buyers.

Also, an extra credit volume of 100 billion yuan ($14.6 billion) will be provided to three policy banks this year to prop up economic growth amid the worsening global financial crisis.
An executive meeting of the State Council, or the Cabinet, presided over by Premier Wen Jiabao, also said steps will be taken to help financial institutions better ward off risks.
Banks, securities firms and insurers should take coordinated action to play a bigger role in supporting economic growth and contributing to industrial restructuring, it said.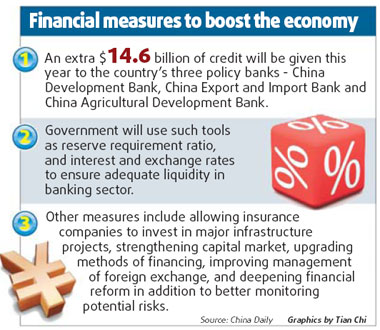 In the face of the global financial crisis, it is imperative to implement a "pro-active fiscal policy" and "a moderately easy monetary policy"; and the financial sector should play a bigger role in economic development, the meeting said.
It announced nine measures to boost the role of the financial sector in the economy including:
Urging commercial banks to meet the demand for loans from small- and medium-sized enterprises - which have been severely battered by the economic slowdown - investors in the countryside, as well as home and car buyers.
Expanding the issue of treasury bonds.
Allowing insurance companies to invest in major infrastructure projects.
Using exchange and interest rates as well as the bank reserve requirement ratio to ensure liquidity in the banking system.
Analysts said they believe the move is part of the government's answer to how the massive 4-trillion-yuan ($586 billion) stimulus package, announced on Nov 9, will be financed.
The central government said last month it would provide 1.18 trillion yuan, or 30 percent, while local governments and enterprises are to make up for the rest.
But some analysts say it would be difficult for enterprises to obtain loans from spooked lenders; and some local governments, grappling with falling revenues, simply lack the financial muscle to chip in.
"Some of the measures are designed to finance the infrastructure projects in the stimulus package," said Zhang Jun, director of the China Center for Economic Studies at Fudan University.
The government has earmarked 1.8 trillion yuan for such projects as railway, highway and airport construction, according to the National Development and Reform Commission.
"Some of the projects would be new revenue sources for insurance companies and banks," said Lian Ping, chief economist of Bank of Communications. "However, it's necessary to keep an eye on potential risks."
China's economy has been losing steam since the end of last year, dragged down by weakening foreign demand for its goods and a slump in the property sector.
Economic growth dropped to 9 percent year-on-year in the third quarter, compared to 11.4 percent for the whole year of last year.
The government has already cut interest rates four times over the past months and lowered the ratio of deposits lenders are required to set aside, in an effort to reduce borrowing costs and increase liquidity in the banking system.