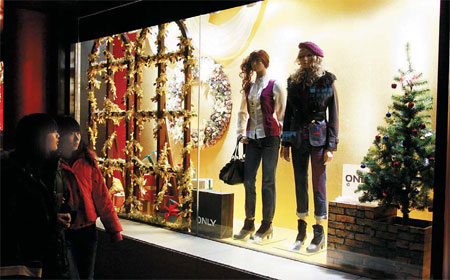 A world speeding into recession can expect little solace from Chinese consumers, with the country's furniture stores, car showrooms and malls busier with window shoppers than buyers.
The long-awaited boom in Chinese consumption, which showed signs of unfolding earlier this year, now seems a more distant prospect as financial fears take root and people put off big purchases.
China has repeatedly vowed that it will help the global economy by maintaining strong domestic growth and recently launched a stimulus package with a headline price tag of 4 trillion yuan.
Although the plan was presented as a way of getting ordinary Chinese to spend more, any succor for world markets will come mainly from the very model that the government has tried to leave behind: big public spending on roads and railways.
"In the longer term, individual private spending is more important because it is more sustainable," says Wensheng Peng, an economist with Barclays Capital in Hong Kong.
"For the short term, the more effective way of stimulating domestic demand is still direct spending by the government on investment in infrastructure."
To be sure, Chinese consumption has appeared to hold up quite well despite a weakening economy. Annual growth in retail sales slowed to 22 percent in October from 23.2 percent in September.
But a breakdown of the data revealed sharp declines in many key categories. Spending on recreational goods was up 2.1 percent from October 2007, slowing from an 18 percent rise in the first nine months. Sales of mobile phones actually dropped 7 percent.
Everything connected to the slumping property market - furniture, home appliances and building materials - sold poorly.
Fan Qiang, a curtain salesman, sat next to piles of cloth in his Beijing store.
"This should be a busy time since the autumn is usually a season for home renovation, but no one is making money," he says. "Not losing money counts as a profit these days."
Off the map
For many Chinese retailers, the sudden drop to 9 percent growth in gross domestic product in the third quarter is their first encounter with a real slowdown after five straight years of double-digit expansion that ushered in rising consumption.
Paul French, chief China analyst at research firm Access Asia, said it was impossible to predict with any precision how shoppers would react, whether by closing their wallets tightly or rallying to spend in a bid to help the country.
"The problem is that we have never been in this situation before. We really are off the map," he says.
Indeed, some consumers have shown a resilient streak.
An art teacher surnamed Cui, 55, strolled outside Beijing's Grand Pacific mall with a new cashmere sweater in hand.
"If I have to buy something, I will still buy it," she says.
But a luxury watch stand in the same mall complained that sales were down by roughly half from the previous month.
Some business have begun to slash prices.
South Beauty, an upscale Chinese restaurant group, this month introduced a 32 percent discount card for customers dining on weekends and holidays.
"With the economy weakening, many companies are tightening their belts in their entertainment budgets," a South Beauty spokeswoman says. "We're trying to retain as many customers as possible by offering the card."
Wang Hongyan, a television producer in her early 40s, bucked a trend of weakening car sales to buy a red Honda recently after visiting several dealerships around Beijing.
"There aren't many people buying now. The sales staff all complained that they're having trouble meeting sales quotas, so it's easy to get reductions," she says.
Don't count on it
The parade of spending pledges announced since the government unveiled its stimulus package makes it clear why economists think China's contribution to the world economy in the coming months will come from its public works, not its shoppers.
The Ministry of Railways is targeting 600 billion yuan of investment next year. The Ministry of Housing and Urban-Rural Development said it would spend 900 billion yuan in the next three years to build affordable homes. The country's civil aviation chief promised 250 billion yuan for airport projects.
Among the details of the stimulus plan, the government made a commitment to spend more on healthcare and education.
Economists say this is exactly why ordinary people need to free up more of their cash for shopping, but they doubt that the government can bolster public services in short order.
China's flimsy welfare net means that households still save about 30 percent of their incomes. In terms of its contribution to GDP growth, private consumption actually fell last year.
Michael Kurtz, an analyst with Macquarie Securities, said in a research note on Thursday that the world is likely to be disappointed if it is counting on Chinese shoppers to replace prostrate US consumers any time soon.
"A game-changing paradigm shift toward Chinese private consumption-driven growth would require deep structural reforms taking effect over years, not months," Kurtz says.
Agencies
(China Daily 12/01/2008 page3)