The ground-breaking on Saturday of the 632-meter Shanghai Center symbolizes that blind worship and race for skyscrapers has reached a new high.
The dragon-shaped structure, to open in 2014, will dwarf its two landmark neighbors: the 492-meter Shanghai World Financial Center, inaugurated just in August, and the 420-meter Jinmao Tower, completed in 1999. It will be a milestone in turning Shanghai into a less pleasant concrete jungle, considering the 4,000 high-rise buildings built in Shanghai in the last three decades, more than any other city in the world.
For many, skyscrapers represent modernity and future. That is why many Chinese cities have shown an extraordinary zest in reaching out to the sky in the last decade, regardless of the many drawbacks of super-tall structures.
While an excessive number of tall buildings is cited as one of the major reasons for Shanghai sinking, this 121-storey tower will make the city subside faster. No wonder this has caused grave concern over the safety of the city's high-rise buildings and the labyrinth of its subway system.
The super structure, which could accommodate tens of thousands of people, will also add more pressure to the congested traffic in the Lujiazui area, the financial hub in Pudong, where commuting is already nightmarish during rush hours.
The urban heat island effect, caused by dense high-rises in the area, is also set to deteriorate, making Shanghai's sultry summer even less bearable.
Of course, there is always the safety issue regarding skyscrapers. They are much more vulnerable to various attacks, disasters, and evacuation would usually take too much time.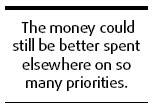 The risk regarding the 14.8-billion-yuan astronomical investment, to be shared by three State-owned enterprises, is also a big concern, since super skyscrapers are less efficient in economic terms. The Jinmao Tower, for example, has to digest a daily operation cost of over 1 million yuan.
Although investors of the Shanghai Center claim that the construction of the building will help stimulate domestic consumption, the money could still be better spent elsewhere on so many priorities.
Shanghai is in urgent need to rescue its historical architectures, which are still being ruthlessly demolished. The city also needs more money to upgrade its bus system to make its public transportation more convenient, comfortable and environment-friendly.
The metropolis also calls for more services for its gray population, ranging from community cultural, sports and recreation facilities to nursing homes, since 20 percent of its population is now over the age 60, the fastest aging city in the country.
Building super skyscrapers is not a priority for Shanghai. It could cause more harm than add to its glamor.