The country's first independently developed regional jet completed its maiden flight in Shanghai on Friday, marking a major stage in China's civil aircraft manufacturing industry, officials said.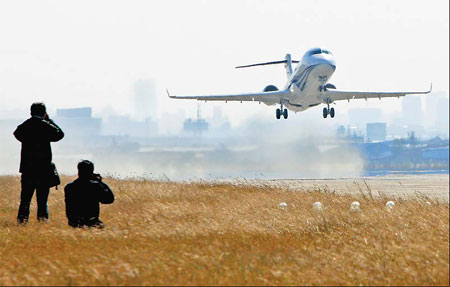 The ARJ21-700, a homegrown commercial regional jet powered by a turbofan engine, makes its maiden flight on Friday in Shanghai. [Xinhua] 
The ARJ21-700, a homegrown commercial aircraft powered by a turbofan engine, rolled off production lines in December last year at the Shanghai Aircraft Manufacturing Factory.
The 90-seat jet has a standard full-passenger flight capability of 2,225 km and a maximum flight capability of 3,700 km.
At 12:23 pm on Friday, Zhang Qingwei, chairman of the Commercial Aircraft Corporation of China Ltd (CACC), which developed the jet, gave the order to the three pilots to take off, the Xinhua News Agency reported.
The jet's maiden flight was successfully completed about an hour later, with all testing procedures carried out, Zhao Peng, one of the three pilots, said.
The ARJ21 does not have passenger seats built in during the testing phase, but will be able to carry passengers within 18 months, Hu Haiyin, Party secretary of the CACC, said.
The Shanghai Aircraft Manufacturing Factory has an annual production capability of 20 ARJ21 jets and the goal is to assemble 50 jets each year in Shanghai alone, Hu said.
With the successful development of the ARJ21, the country is expected to make headway in what is seen as a highly monopolized civil aircraft market involving the Boeing, Airbus and Bombardier groups, analysts have said.
Jin Zhuanglong, general manager of the CACC called the success of the ARJ21 flight "a breakthrough for Chinese civil aviation" that will "especially promote the China-made jumbo jet plan".
ARJ21 is an acronym for "Advanced Regional Jet for the 21st Century".
Aircraft manufacturer China Aviation Industry Corp I said it has received 208 orders for the regional jets from home and abroad, including 25 orders from major industry player GE Capital.