It is a classic of the West, a book Roman emperor Marcus Aurelius wrote in the 2nd century AD. There are also a dozen Chinese editions of it by various translators, the first one published in Beijing in 1989, receiving limited attention.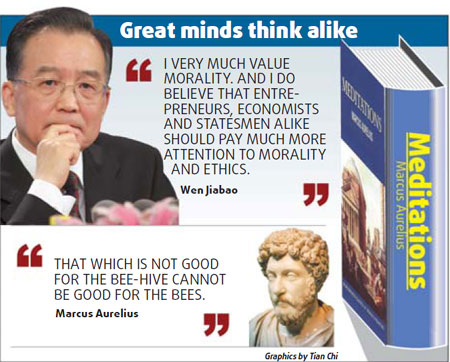 But readers recently found out Meditations is one of Premier Wen Jiabao's favorites books, catapulting the latest edition to bestseller status within months.
This is the line on the newly packaged book that has been drawing readers: "This is a book Premier Wen Jiabao says he has read over 100 times, according to a November 20, 2007 China Daily report."
Former US president Bill Clinton, too, "also values the writings of Marcus Aurelius".
Chinese readers now cannot get enough of the book. At least 10 other publishers have come up with alternative versions of Meditations in the past few months. All publishers are said to be sporting the line stating Premier Wen's liking for the book.
Total sales of Meditations surpass 1 million copies, insiders have said, excluding pirated versions.
Readers have been getting their own insights from the emperor's contemplations.
"Self-discipline is tough even for a common man with a good conscience. But Aurelius was an emperor! I really admire the author's broad mindset," writes Zhejiang province columnist Xu Xunlei in his blog.
"The Meditations carries words that seem to flow from the heart of the Roman emperor… simple but inspiring," says Wen Hui from Guangdong province.
"The book is medicine to me. It really gives me inner peace," says Zeng Lequan, an ink painter from Sichuan province.
In Zeng's view, the emperor's understanding of such vital questions as moral integrity, social responsibility, human nature and death is surely far deeper than those of average people.
"A publisher's windfall can come in details that are easily ignored," says Gao Lizhi, an editor with the Central Translation and Compilation Press, one of the country's major publishers of Western philosophical classics.
While surfing the Internet for ideas, Su Yuan, Gao's direct boss, accidentally spotted netizens' discussions and comments on news of the book on China Daily's website.
China Daily reporter Cao Desheng wrote that, during the Chinese premier's visit to Singapore that ended on Nov 20 last year, Wen mentioned Meditations was a book he kept at his bedside and one that he has read more than 100 times.
Su was intrigued by the online discussions.
The veteran publisher immediately sniffed out a potential "goldmine" and proposed to her bosses the idea of "bringing new life to the book that has been overlooked by most readers over the years". The project was given the green light.
"In the past, I believed in the power of book critics," Gao told local media. "This time, after the success of Meditations, I have come to see the power of hot topics on the Internet."
Nonetheless, "it is not merely because of Premier Wen's endorsement that the book has gained its sweeping popularity. The book in its own right is a timeless classic that deserves more attention from Chinese readers", book critic He Chao said.
"What Wen said served to help readers who find it hard to choose from so many new books make their pick."
At least 248,000 books were published in the country last year, totaling 6.293 billion copies, latest official figures showed. In 2006, at least 234,000 books were published, totaling 4.408 billion copies.