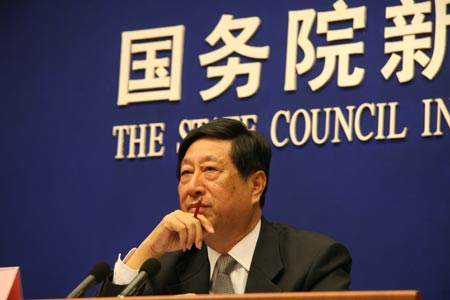 Zhang Ping, minister of the National Development and Reform Commission, speaks at a press conference on China's economy in Beijing November 26, 2008. [CFP]
The downside risk to China's economy is increasing, and some economic indicators deteriorated in November, said China's top economic planner on Thursday.
The troubling status quo of the country's economy has driven top policy-makers to work day and night, with Premier Wen Jiabao presiding over up to four State Council meetings in a week.
Related readings:


Top planner: Pressure on economy increasing


HK 'could play role' in China's stimulus plan


Social investment to total $2.64 trln in 2009


Economic planner unveils stimulus breakdown
Zhang Ping, minister of the National Development and Reform Commission (NDRC), said during a press conference in Beijing Thursday that the central government has meted out a breakdown of the 4-trillion-yuan fiscal stimulus plan. The majority of the investments will be channelled to infrastructure projects, rural residents' medical care and pensions, technological renovation, environment, and tax cuts for businesses and individuals.
Deepening economic woes worldwide are casting a larger shadow on China, the world's fastest growing major economy. Some major economic indicators have shown evident signs of worsening since the beginning of November. Although Zhang did not detail those indicators, analysts said they include the gross domestic product (GDP), exports, capital investments, and the consumer price index (CPI).
China's GDP slowed to 9 percent in the July-September period, down from 9.9 percent in the second quarter. Many economists predict that the growth for the last quarter of 2008 could tumble to as low as 6 percent.
The worst has yet to come as the global financial crisis has not bottomed out, Zhang admitted.
Chinese enterprises, especially those export-oriented businesses, are experiencing growing difficulties, with some having been forced to halt or reduce production. "Without doubt, the situation will hurt employment," he said. Some workers have chosen to go back to their rural homes as the employers have shun down factories, he added.

With such a grave situation, China will continue to implement "strong and effective" fiscal and monetary instruments to check the slowing pattern, and yesterday's 108-percentage-points interest rate cut is one of the measures, Zhang said.

On Wednesday, China's central bank announced a massive cut of the benchmark annual saving and loaning rates by 1.08 percentage points, as part of the intensified moves to further stimulate domestic demand, and to give substantial support to enterprises, especially enterprises affected by tumbling exports.
As to the contentious issue of fuel tax, being studied by Zhang's Commission and to be levied on all oil users in China, the minister said that the tax blueprint will come out soon, and be published to solicit public opinion before enaction, as ordered by the State Council.
Chinese car-owners are criticizing the government for not reducing gasoline prices even the world market's oil price has gone down by more than 120 percent. Some economists also questioned the wisdom of the new tax, as all other countries in the world are busy in repealing taxations to aid spending.
Zhang said at the news conference that the new fuel tax will help conserve energy, as well as bring more income for the central government and local governments. However, he asserted that the tax rate won't be too high -- perhaps less than the 30 percent as predicted by many.