ATHENS: Cosco Pacific Ltd's agreement to take over the container operations at Greece's biggest port will enable China and Greece to boost cooperation, particularly in the maritime field, visiting President Hu Jintao said on Tuesday.
Under the agreement, Asia's third-biggest container-terminal operator will receive a 35-year concession to operate and manage two container terminals at Greece's main port of Piraeus.
The deal worth 831.2 million euros ($1 billion) was signed after Hu met Greek Prime Minister Costas Karamanlis for talks on the second day of an official visit to Greece.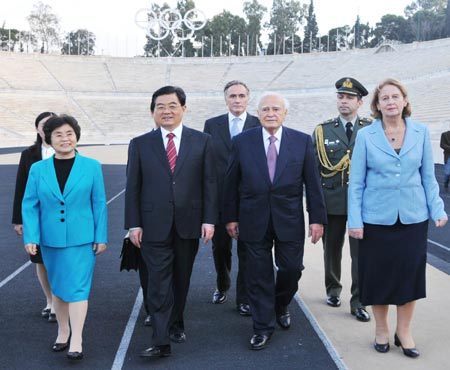 "We can use the ports as leverage to broaden collaboration," Hu said.
Chinese President Hu Jintao (2nd L, front) and his wife Liu Yongqing (1st L, front) visit the venue of the first modern Olympic Games accompanied by Greek President Karolos Papoulias (2nd R, front) and his wife in Athens, Greece, on Nov. 25, 2008. [Xinhua]
"The concession deal between the port of Piraeus and Cosco marks a new and significant chapter in our cooperation. Greece places particular importance on its partnership with China and is determined to deepen this relationship," Karamanlis said.
The Piraeus Port Authority has struggled to attract international container companies because of limited handling facilities and poor labor relations. Wei Jiafu, Cosco group president, said the project, which is due to be completed in 2014, will not be hit by planned cuts in investment by the group amid the global economic crisis.
"We are in Greece for the long term."
During talks with the Greek prime minister, Hu also said that China hopes to expand the scope of shared interests with Greece, and push forward cooperation in various sectors in addition to the cooperation in the oceanic shipping industry.
He suggested that the two sides set up a guideline for long-term economic cooperation and establish a more effective communication platform for enterprises from the two countries.
He said that the Chinese government supports competent Chinese enterprises to invest in Greece and carry out mutually beneficial cooperation in telecoms, energy, environmental protection, tourism and isle development.
Hellenic Telecommunications Organization SA, the Greek telephone company that is controlled by Deutsche Telekom AG, and China's biggest telephone equipment maker Huawei Technologies Co also signed a cooperation agreement on Tuesday.
Hu arrived in Athens on Monday for a state visit to Greece, the last leg of his five-nation trip. He will be back to Beijing today.
Agencies-China Daily