As one of the coldest winters on record looms over Sichuan, more than 1 million families displaced by the May 12 earthquake are still without proper homes, a senior provincial official said on Friday.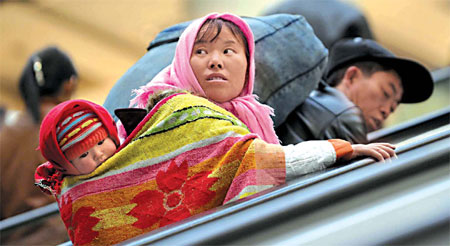 A home-bound migrant worker from Sichuan carries her child in a railway station in Shenyang, Liaoning province on Friday, after failing to find a job in the city. Many people displaced by the May 12 earthquake have left their hometowns in search of work. [Agencies]
Wei Hong, executive vice-governor of Sichuan, told a briefing in Beijing that 195,000 homes, less than 16 percent of the total needed, have so far been built.
An additional 685,000 are under construction, he said.
The average winter temperature in the quake zone is forecast to be 0.5 to 1 C lower than in previous years, he said.
"Our top priority is to ensure that thousands of affected people, especially those living in extremely cold and remote rural areas, are safe and warm through the winter," Wei said.
In places such as Beichuan, which is yet to find a new home, almost 6,500 families are still living in tents, he said.
Millions of others displaced by the quake are in need of quilts and repairs to their homes if they are to survive the winter cold, he said.
Chen Kefu, deputy director of Sichuan's civil affairs department, said about 330,000 quilts are still needed, as well as other items such as electric blankets and heaters.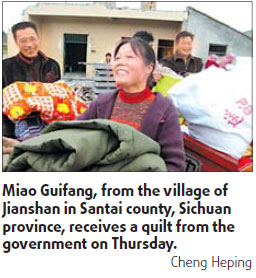 The May 12 earthquake killed more than 69,000 people, injured 374,000 and left millions homeless. About 18,000 people are still missing.
Since the magnitude 8 quake struck, more than 31,000 aftershocks have been reported, with the strongest measuring 6.4 on the Richter scale.
Altogether 19,065 people killed in the quake have now been identified, Wei said.
The name, birthplace, place of death, and other personal information of each person has been recorded, he said.
This is the first time the government has disclosed such detailed information about the dead, and more lists will be published, he said.
However, there is "no final, accurate figure" yet for the number of schoolchildren who died because verifying the figure is a complex process, Wei said.
A total of 1,363 schools, almost 41 percent of the total needed, have now been completed or are under construction, he said.