She wants to be a bridge of friendship between China and India. And if her genius with numbers is anything to go by she will not need much time for that.
Shakuntala Devi, known as the human computer, calls herself India's "math ambassador" to China. On her first visit to the country, she will exhibit her prowess with numbers in Beijing on Saturday.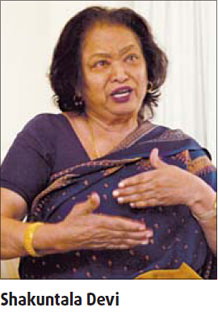 She has performed in more than 114 countries, and met top leaders and celebrities such as Nelson Mandela and Hillary Clinton. But why did it take her so long to visit China?
"I've always wanted to be here but things didn't work out earlier and since I am here now this is the right time for me," she said on Friday.
She has just been in Beijing for two days, so she cannot speak about the city, or China. But she has always been fascinated by the Chinese people, especially their special aptitude for numbers.
Special aptitude? Where does it come from? "Abacus", she said. The abacus was used by almost all ancient civilizations, but none could master it like the Chinese "It's so perfect," she said.
"Let me tell you an anecdote. I was in Tokyo more than a decade ago competing against a computer and an abacus. I was the fastest with the calculation. And guess what the abacus was second."
So people who have mastered its use have to be special.
"It's a pity very few people use them today," she said.
Devi has beaten computers many a time. In 1977, she beat one of the world's fastest computers by 10 seconds in a complicated calculation. She extracted the 23rd root of a 201-digit number mentally that year. Three years later, she multiplied two 13-digit numbers in 28 seconds to enter the Guinness Book of World Records.
The mathematical genius was born in 1939, in Bangalore, south India. Her father discovered her talent for numbers while teaching her card tricks when she was 3. By the age of 6 she was demonstrating her gift of numbers in reputable universities.
What began as an exercise to feed the family later turned into a fascination, "rather respect for math", she said, because "math is the only truth".
That belief has prompted her to pen 22 books, most of them on mathematics. She has tried her hand at fiction, too, writing short stories for children and even a murder mystery.
"I want to awaken the spirit of math in the young and old. I've seen people from 5 to 80 sit with rapt attention at my workshops. And I would love to hold such a workshop in China, if given the chance," she said.
Has she planned anything special for her program on Saturday, her first in China?
"I never plan in advance. I love performing impromptu. The more challenging the audience, the more fun it is to perform. And I'm sure my audience in Beijing will be very challenging."
She likens numbers to people. "They are the same everywhere. Numbers are lovely, passionate and have values ... like people."
That's why "I want to shake the hands of the Chinese people ... and tell them our country needs your friendship".
She will get a chance to do that at the program, organized by the Indian Community in Beijing, and supported by the Indian embassy's culture wing.
Everything about this almost 70-year-old woman takes you by surprise, though her love for astrology falls in an altogether different category. But then she is from a country where millions of people live by faith alone.
See Shakuntala Devi in action at 1101-03 East Tower, LG Twin Towers, B-12 Jianguomenwai Dajie, Chaoyang district, Beijing from 10 am to 12:30 pm on Saturday. Entry is 100 yuan per person; children under 6 go free.