The already bleak employment situation may take a turn for the worse early next year as the global financial crisis takes a toll on the national economy, the country's top labor official said Thursday.
Yin Weimin, minister of human resources and social security, also said that labor unrest is the ministry's "top concern".
The urban registered unemployment rate remained stable at 4 percent during the first 10 months, but the worsening global economic situation has begun to weigh on China's job market since last month, Yin told a press conference held by the State Council Information Office.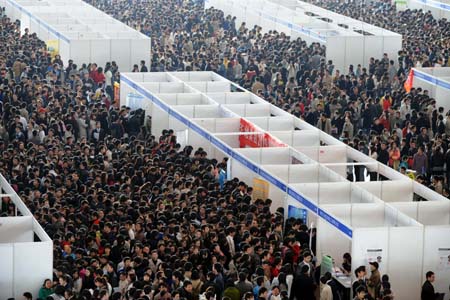 About 52,000 university graduates swarm Nanjing International Exhibition Center in the capital of Jiangsu province where a job fair was held November 20, 2008. About 900 enterprises had 40,000 jobs on offer; and the cadidates were shortlisted from some 510,000 who sent resumes online. [Xinhua]
The rate, the sole index that measures the jobless but excludes migrant workers, could hit 4.5 percent by the year-end, Yin's deputy Zhang Xiaojian said.
The unemployment scenario could get worse in the first quarter of next year, said Yin, but added he expects the situation to improve in the second quarter when government measures to boost domestic demand start to yield results.
The country is battling rising unemployment mainly because of a falling demand for its export-oriented products amid the global financial meltdown.
Yin said small and medium enterprises in labor-intensive sectors have suffered the biggest job losses. Manufacturing hubs, especially in Zhejiang and Guangdong provinces, have witnessed many factory closures, production cuts and massive lay-offs.
"The current situation is grim, and the impact (of the crisis) is still unfolding," Yin said.
Job seekers in some cities outnumber vacancies by 2-1. The numbers of college graduates will rise from 5.59 million this year to 6.1 million next year. Altogether 24 million people will enter the labor market, competing for the 12 million jobs cities can generate, Zhang said.
Related readings:


 Guangdong gives a warning sign for job hunters


 Steps taken to stabilize job market


 Economic downturn makes job seekers lower outlook


 China opens nationwide job fairs for graduates


Graduates face gloomy job market 

 More job losses in S China amid global financial crisis
Government agencies will try to spur employment of graduates in the private sector or offer them incentives to take up jobs in remote and underdeveloped regions, he said.
Economists said the government will try to maintain GDP growth above 8 percent to keep the job market stable.
The economy grew 9 percent in the third quarter after expanding 11.9 percent last year, and economists warn of further declines.
In face of the grave situation, labor unrest has become the "top concern" for the authorities, Yin said.
Workers in some southern and coastal regions reportedly gathered in front of closed factory gates last month demanding unpaid wages after their bosses fled.
Yin said the government will strive to solve disputes before they get out of control, and set up a fast-track mechanism to deal with them.
"Employment stability is the top priority for China," he said.
The government is trying to help firms minimize job losses, and ensure those that do lay off workers abide by labor laws, Yin said.
For example, large and medium firms in Hubei province have been asked to lower salaries rather than laying off workers. They need local government approval before laying off more than 50 people at one go.
Agencies contribute to the story