The US Food and Drug Administration opened its first overseas office in Beijing Wednesday to better ensure the safety of increasing Chinese food imports.
"A permanent FDA presence in China will help us address the challenges presented by globalization," FDA commissioner Andrew von Eschenbach said at the opening ceremony.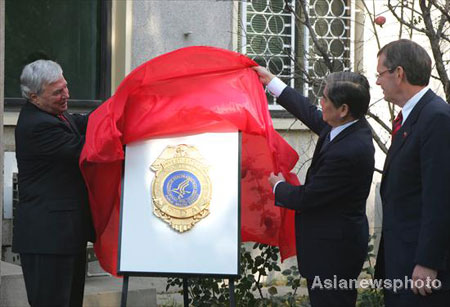 FDA Commissioner Andrew von Eschenbach (L) and Shao Mingli (C), head of the State Food and Drug Administration (SFDA) unveil the FDA Beijing office while US Health and Human Services Secretary Michael O. Leavitt looks in Beijing, November 19, 2008. The FDA will open three offices in Beijing, Guangzhou and Shanghai this week to help ensure export safety while China is also preparing to station offices in the US. [Asianewsphoto]
"We look forward to working with the Chinese government and manufacturers to ensure that FDA standards for safety and manufacturing quality are met before products are shipped to the United States."
The FDA will open two more offices this week, one in Shanghai and the other in Guangzhou.
Christopher Hickey, the FDA's country director, said eight staff will be stationed in China. They will include inspectors and senior technical experts on regulation, policy, food, medicines and medical devices.
Related readings:


 Food safety procedures tightened


 FDA to open China offices 


 Food safety law to be stricter, more onus on govt
They will work with their Chinese counterparts to build capacity, and offer their experience and expertise, he said.
Their responsibilities will include inspecting local facilities, providing guidance on US quality standards, and eventually training local experts to conduct inspections on behalf of the FDA.
Shao Mingli, deputy health minister and head of China's State Food and Drug Administration, said the opening of the FDA office "provides a very clear signal to the whole world".
"As food and drug regulatory agencies, our first priority is to protect public health and life," Shao said.
"This is our top responsibility."
The opening of FDA China offices comes amid a huge milk contamination scandal that saw four babies die and 53,000 fall ill this year. The industrial chemical melamine was found in a number of dairy products.
The FDA last week issued an "import alert" for Chinese foods that may contain "dairy ingredients", urging importers to certify the products to be either free of such ingredients or melamine, otherwise the products will be denied entry.
Eschenbach said use of the import alert is a regular practice within the FDA's regulatory framework.
But the US would like to continue to work closely with China to resolve the issue, he said.
FDA associate commissioner for foods, David Acheson, said there was no timetable for the lifting of the alert, as it depends on how quickly the problem can be resolved.
Acheson said the United States will continue to import food from China and that trend was "going to increase".
Of the $320 billion in products the United States imported from China last year, about $4.4 billion comprised food, half of which was seafood such as shrimp, according to data from the US Census Bureau.
Also on Tuesday, Health Minister Chen Zhu said that China will send food and quality control officials to the US in the future.
Experts welcomed the potential partnership, but said it cannot solve all the problems.
Chen Junshi, a senior researcher with the Chinese National Institute for Nutrition and Food Safety, said the setting up of quality control offices in each other's country could improve mutual understanding and facilitate information sharing.
Agencies contributed to the story