China is likely to continue increasing holdings of US treasury bonds even after becoming the No 1 holder because it is the best way to deploy its $1.9 trillion foreign exchange reserves, economists say.
On Monday, US Treasury data showed that China had replaced Japan to become the top holder of US treasury debt in September.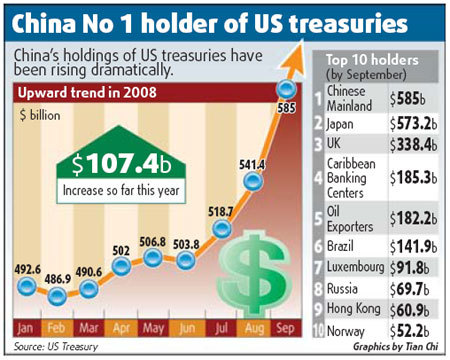 With a $43.6 billion increase in holdings of US treasury securities in September, China's overall holdings amounted to $585 billion. Japan cut its holdings to $573 billion from $586 billion in August.

Related readings:


 Central bank to set up foreign exchange department


 China revises foreign exchange rules

 Forex official: No major change to fund outflow


 China's forex reserves hit record


 China buys $14.9b of US treasury bonds
Net foreign purchases of long-term US securities totaled $66.2 billion in September, up from $21 billion in August and $18.4 billion in July.
Treasury data suggests that foreign investors still regard the US as a relatively better place to invest when markets worldwide are crumbling, analysts said.
"That's why China has increased its holdings," said Dong Yuping, senior economist at the Institute of Finance and Banking affiliated to the Chinese Academy of Social Sciences.
As the US financial crisis worsens, Washington is in dire need of capital to fund its massive market rescue plan; but some domestic economists argue that China should not use its foreign exchange reserves to purchase US bonds for fear that it may incur huge losses.
"But China may not have many options," Dong said.
The US economy, though hemorrhaging from the crisis, remains the largest and strongest; and the EU and Japan are not yet a serious challenge to US pre-eminence. Investment in dollar assets, therefore, carries the least risk, he said.
If China reduces its holdings of US debt, others may follow suit, which will lead to a weakening of the dollar and depreciation of dollar-denominated assets, thus severely hurting China's interests.
"China and the US are in the same boat," he said.
"You may not like it, but China has to move along this path," said Yan Qifa, senior economist with the Export-Import Bank of China.
And now that many countries are increasing holdings of US treasury bonds, China's potential returns from the bonds will increase, said Chen Gong, chief economist and chairman of Anbound Group, a Beijing-based consulting firm.
"So China may continue to increase its holdings," he said.
However, some experts argue that Beijing use its considerable financial leverage to set conditions such as the US opening its financial markets more to Chinese funds, and allowing exports of high-tech products to China.