HAVANA: President Hu Jintao arrived in Cuba on Monday to further promote economic ties and friendship with the Caribbean island nation.
"My visit is aimed at increasing friendship and cooperation between our two nations, and working together with our Cuban comrades to build a promising future," Hu said in a statement after landing. He offered "sincere good wishes that the Cuban people continue to achieve new advances in the construction of socialism".
China has given 1,600 cotton blankets and 1,600 quilts worth 600,000 yuan ($88,000) to Cuba to help the hurricane victims.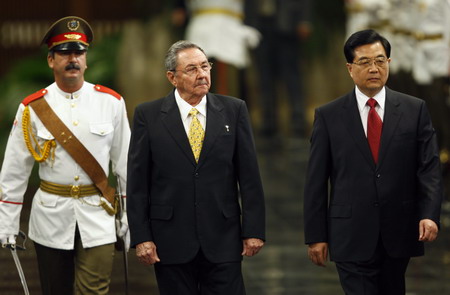 Chinese President Hu Jintao and his Cuban counterpart Raul Castro (L) review a honour guard at the Revolution Palace in Havana November 18, 2008. Hu Jintao arrived in Cuba on Monday for a two-day visit to promote further economic ties with the island country. [Agencies]
The plane that Hu took to Cuba carried the articles, and Beijing will donate another 70 million yuan during Hu's visit.
China has donated $1.3 million in cash and 21 million yuan worth of construction materials to Cuba since hurricanes Gustav, Ike and Paloma devastated its farm sector, causing more than $10 billion in damage.
No sooner had Hu landed than Cuban television said the two countries had already signed trade and investment accords for China to continue purchasing nickel and sugar from Cuba and to provide it with agricultural products.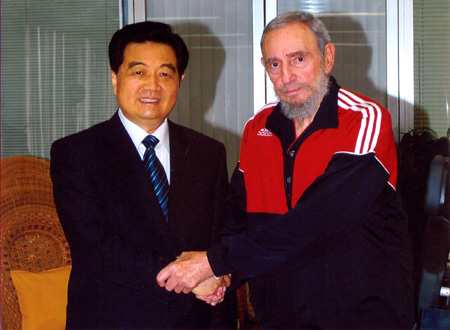 Chinese President meets with former Cuban leader Fidel Castro in Havana, Cuba November 18, 2008. [Xinhua]
More agreements on economic cooperation, education and other issues were expected to be signed after Hu's meeting with his Cuban counterpart Raul Castro later last night.
Hu also met with former Cuban leader Fidel Castro, who was in power when Hu paid his first state visit in 2004.
The 82-year-old has not appeared in public since undergoing intestinal surgery in July 2006. He had visited China twice before.
He occasionally meets with visiting heads of state.
His younger brother, Raul, who formally replaced him as president in February, has also visited China.
"Cuba is indispensable for China in its bid to strengthen links with Latin American and Caribbean countries," the Chinese ambassador to Cuba, Zhao Rongxian, said of Hu's visit in an interview with the Xinhua News Agency.
China and Cuba set up diplomatic ties in 1960.
In recent years, the two countries have maintained frequent high-level visits, deepened mutual trust and expanded trade and economic cooperation. China is Cuba's major trading partner with two-way trade totaling $2.2 billion in 2007.
Hu was scheduled to visit a school near Havana Tuesday where hundreds of future Chinese diplomats, translators and functionaries are studying.
China Daily - Agencies