By Wang Hongyi and Gao Erqiang in Hangzhou, and Xie Chuanjiao in Beijing (China Daily)
Updated: 2008-11-17 07:14
HANGZHOU: Rescuers were last night searching for 17 workers missing in the cave-in of a subway tunnel on Saturday which killed four people.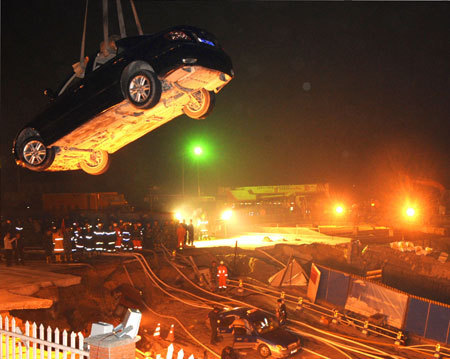 Rescuers work at the collapsed road where a subway tunnel was under construction in Hangzhou, capital of east China's Zhejiang Province, Nov. 15, 2008. At least 3 person is dead and 17 are missing and 13 vehicles were also trapped after the road caved in on a subway tunnel under construction in Hangzhou on Saturday. [Xinhua] more photos
"There is a very slim chance of their survival as the crater is flooded with water," Hangzhou government deputy secretary-general Wang Guangrong told a press conference in the morning.
The accident is one of the worst in the history of subway construction in the country; and six people are being treated in hospital, he said.
A 75-m-long section of the subway tunnel under construction in Xiaoshan district in the southeastern part of the capital of Zhejiang province collapsed at 3:20 pm on Saturday.
Eleven vehicles fell into the 15-m-deep crater but all were pulled out within hours of the accident; and two motorists were injured, Wang said.
Most of the dead and missing are construction workers from Sichuan, Anhui and Henan.
China Railway Construction Group Co Ltd, which is building the tunnel, has ordered its experts to carry out a thorough safety examination, said Bai Zhongren, vice-president of the company.
Search for missing workers on
Zhang Di was pleading desperately on Sunday with firemen to save his elder brother. "He's only 23 years old and his son is only four months," he cried.
Zhang Peipei is among the 17 people still missing after an under-construction subway tunnel collapsed in Hangzhou on Saturday afternoon.
Zhang Di, too, was working at the site, but fortunately he had been sent on errand when the accident took place.