GUANGZHOU -- Milk tainted with melamine might be used to make bricks and cement, authorities in Guangzhou said on Tuesday.
Wang Fan, director of the Guangzhou food safety office, told China Daily that when milk is burned in a kiln it produces a residue that can be used in the manufacture of bricks and cement.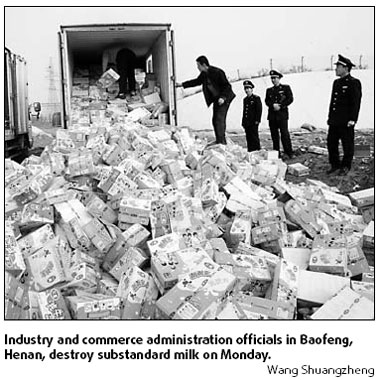 Also, the cost of disposing of contaminated milk in this way is much lower than if it is treated as hazardous waste: about 700 yuan ($102) per ton, as opposed to 1,800 yuan per ton, he said.
Despite media reports saying Guangzhou has about 51 tons of tainted milk, Wang said the figure is probably higher, and therefore all means of disposing of it will be considered.
After recalling and collecting all known supplies, the government is now trying to decide on the best way to dispose of them, he said.
While some milk can be used for landfill, at a cost of about 150 to 200 yuan per ton, there are limits on how much can be dumped each day, he said.
Producers based outside Guangzhou have recalled some of the milk, but the rest needs to be disposed of locally, he said.
The municipal government had earlier said the tainted milk must be disposed of in a safe manner.
According to a report in yesterday's edition of the Guangzhou-based Yangcheng Evening News, a spokesman for dairy company Inner Mongolia Yili Industrial Group Co Ltd said the cost of handling the tainted milk was a burden on producers.
"We are not allowed to treat it ourselves in case it pollutes the environment," he said.
Last week, a waste disposal company in the Baiyun district of Guangzhou was fined 200,000 yuan for using a compactor to dispose of 18 tons of milk, 6 tons of which spilled into the local river.