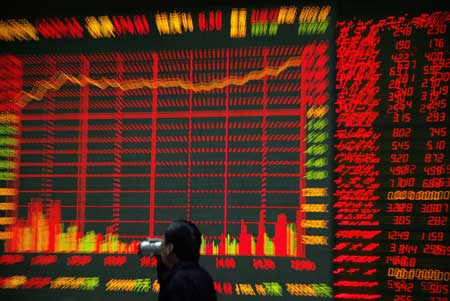 An investor drinks tea as he passes in front of an electronic board showing stock information at a brokerage house in the financial district of Beijing November 10, 2008. China's stock market surged to a two-week high and turnover expanded on Monday after the government announced a major stimulus package for the economy. [Agencies]

Chinese stocks soared by more than 7 percent Monday on the news that, the State Council decided to stimulate its slowing economy by spending $586 billion before 2010 on Sunday.
The Shanghai Composite stock index closed at 1874.80 points, up 127.09 or 7.27 percent, the largest one-day gain recorded in the past month. The combined turnover climbed to 78.636 billion yuan ($11.52 billion), from Friday's 40.2 billion yuan.

Property, steel and financial shares were among the biggest gainers, although energy firms also advanced, with market heavyweight PetroChina adding 6.7 percent to 11.22 yuan.

Chinese investors had been waiting months for a major spending package, and Beijing had hinted it was likely to deliver one soon.

Beijing's giant stimulus package will bring $586 billion-worth of fiscal spending on railways, airports and other infrastructure, and on social welfare projects.

The massive government spending plan not only buoyed investors in China, but also gave a shot in the arm for all the other major stock bourses in Asia.
China's export-driven economic growth slowed to 9 percent in the third quarter, its lowest level in five years and well below last year's 11.9 percent.
Apart from accelerating and increasing spending, authorities are also loosening credit conditions and cutting taxes, although exact details of the plan have not been disclosed.