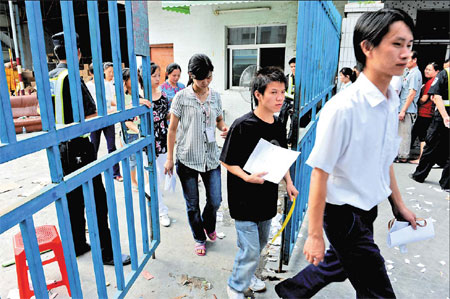 Workers walk out of a Smart Union factory in Dongguan, Guangdong province, on October 18, three days after it declared bankruptcy. [China Daily] 
BEIJING  -- China said on Sunday it will loosen credit conditions, cut taxes and embark on a massive infrastructure spending program in a wide-ranging effort to offset adverse global economic conditions by boosting domestic demand.
Related readings:


 China in good position to expand economy - World Bank


 World Bank chief says China ready to boost economy


 China to stabilize global markets by maintaining growth - top banker


 China considers policies to promote auto sales

This is a shift long advocated by analysts of the Chinese economy and by some within the government. It comes amid indications that economic growth, exports and various industries are slowing.

A stimulus package estimated at 4 trillion yuan (about $586 billion) will be spent over the next two years to finance programs in 10 major areas, such as low-income housing, rural infrastructure, water, electricity, transportation, the environment, technological innovation and rebuilding from several disasters, most notably the May 12 earthquake.

The policies include a comprehensive reform in value-added taxes, which would cut industry costs by 120 billion yuan.

Commercial banks' credit ceilings will be abolished to channel more lending to priority projects, rural areas, smaller enterprises, technical innovation and industrial rationalization through mergers and acquisitions.

The decision was announced on Sunday by the State Council, or cabinet,  after Premier Wen Jiabao presided over an executive meeting on Wednesday.

The meeting decided that credit expansion must be "rational" and "target spheres that would promote and consolidate the expansion of consumer credit."

With 100 billion yuan from current-year central government funds and another 20 billion yuan brought forward from next year's budget for post-disaster reconstruction, the fourth quarter is expected to see a total investment of 400 billion yuan across the nation.

"With the deepening of the global financial crisis over the past two months, the government must take flexible and prudent macro-economic policies to deal with the complex and changing situation," said the meeting.

The meeting also announced that China will adopt "active" fiscal and "moderately active" monetary policies and map out more forceful measures to expand domestic demand, speed up the construction of public facilities and improve living standards of the poor to achieve "steady and relative fast" economic growth.

The macro-economic policy changes announced on Sunday are one of only a few major shifts during the 30 years since the beginning of reform and opening up in 1978.

The most recent modification was in December, when the government resorted to a combination of "tight" monetary policy and "prudent" fiscal policy to fight inflation.

With the monthly consumer price index, the main gauge of inflation,  expected to drop further through year-end -- after plunging from a 12-year high of 8.7 percent in February to 4.6 percent in September -- the focal task of macro-economic control has shifted from beating inflation to sustaining economic growth.

The past three months have seen a series of stimulus policies: interest rate cuts, lower bank reserve requirement ratios, tax changes, higher credit quotas and the injection of central government funds to infrastructure construction.

The meeting decided that higher investment must be able to facilitate economic restructuring, promote growth potential by channeling investment to where it's most needed and spur private consumption.

Although the economy has maintained double-digit growth for years,  fixed-asset investment and exports have dwarfed consumption as the two pillars of expansion. With global recession clearly in view, China must sustain itself by exploiting the domestic market to offset weaker demand abroad.

The meeting identified the ongoing world economic adjustment as "a new opportunity" for China to speed industrial restructuring, introduce advanced technologies and talents from abroad.

Despite challenges, China has a great potential to develop its domestic demand and a solid financial system, the meeting noted.

"As long as we take the right measures in a resolute and timely way to grasp the chance and rise to the challenges, we will surely secure steady and relative fast economic growth," the meeting noted.

The People's Bank of China has already cut interest rates three times since mid-September and scrapped lending quotas in a bid to support the economy.
Officials have been flagging measures to pump up demand since gross domestic product growth slowed unexpectedly sharply to 9.0 percent in the third quarter from 10.4 percent in the first half.
Indicators for October have been even weaker.