SHANGHAI - China and the United States should expand exchanges and cooperation to ensure effective communication between their Internet authorities, a top information official said on Friday.
In a keynote speech at the Second US-China Internet Industry Forum (UCIIF), vice-minister of the State Council Information Office Cai Mingzhao called the Internet "a new engine powering China's economic and social development.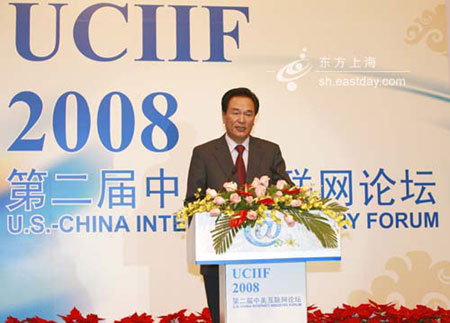 Cai Mingzhao, vice minister of the State Council Information Office, delivers a keynote speech at the opening of the 2nd US-China Internet Industry Forum in Shanghai November 7, 2008. Cai said the Internet plays an irreplaceable role in the country's modernization drive and serves as a booster to the country's opening up and reform. [eastday.com]
"International cooperation is essential for promoting the health and orderly development of the Internet industry because of its global nature," he said.
China and the US should engage in mutually beneficial cooperation in the Internet industry while increasing exchanges and cooperation between professional Internet institutes to combat spam, viruses and pornography to guarantee security and credibility, he said.
Microsoft's chief research and strategy officer Craig Mundle said a communication mechanism based on mutual trust and close cooperation is crucial to innovative applications, ensure the security of electronic transactions and combating online crime.
Chairman Hu Qiheng of the Internet Society of China (ISC) said the biggest concerns for China's Internet development include the security of users' information, illegal and obscene information's transmission, piracy, fraud, online gambling, spam and encroachment upon privacy.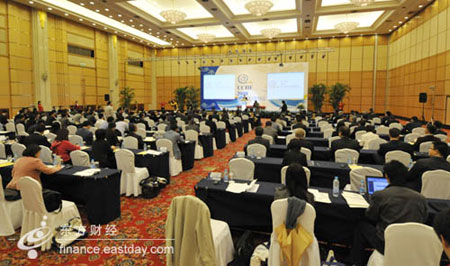 The 2nd US-China Internet Industry Forum opens in Shanghai November 7, 2008. More than 100 experts and officials from China and the United States are present at the two-day forum. [eastday.com]
"The Internet is broadly and deeply penetrating the country's traditional industries and agriculture, while the US determines the Internet's development direction in terms of core technologies and innovative solutions," Hu said.
"The development of the IT industry in China and the US has also been different and, therefore, complementary."
China's online population is growing at an average of 240,000 a day and might reach 500 million in three to four years, according to official figures.
By June, the number of online shoppers in China had reached 63 million, a 36.4 percent rise from six months ago, while the number of mobile Internet subscribers climbed 66.7 percent to 84 million in the same period.
The digital divide between urban and rural areas also has narrowed.
There are now 74 million rural Internet users, up 70 percent on last year. At least 97 percent of towns now have Internet access, and 94 percent of them have broadband, Cai said.
Jointly organized by the ISC and Microsoft, the Internet forum addresses cutting-edge technologies and their application trends, information dissemination, security and Internet regulation.