Premier Wen Jiabao on Friday urged rich nations to transfer greenhouse gas emissions-curbing technology to China and other developing countries, and address climate change responsibly by changing their unsustainable lifestyles.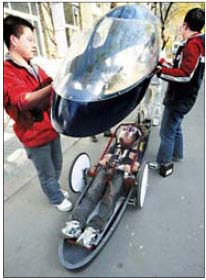 Students from Tianjin University put their energy-saving, environmentally friendly vehicle through its paces on Thursday. Local media have said it can travel between 250km and 400km on a single liter of gasoline. [Agencies]
The international community should establish a fund and mechanism for overcoming technology transfer barriers, he said in a two-day international climate change conference's opening speech.
He also said climate change efforts should not lose momentum despite challenges.
"As the global financial crisis spreads, the international community must not waver in its determination to tackle climate change," Wen told the meeting attended by 100 countries' representatives.
UN Secretary-General Ban Ki-moon echoed Wen's view. In a message to the meeting, he said increasing food and fuel prices and global financial turmoil have undermined progress in tackling climate change and impeded the world's development agenda.
"We must not allow current difficulties to lower our expectations of what can be done or deter us from what must be done," Ban said.
Yvo de Boer, head of the UN Climate Change Secretariat, said: "It is undeniable that the financial crisis will have an impact on the climate change negotiations.
"If we go to citizens under the current circumstances ... and say, 'I'm increasing your tax burden in order to pay for climate policy', that might not go over very well."
The solution, he said, was to directly target polluters as a revenue source for developing countries, Reuters reported.
Wen said the Chinese government has always had a responsible attitude toward, and "placed great importance" on, climate change. China is confident it will reach goals of cutting per unit GDP energy consumption by 20 percent and reducing emission pollutants by 10 percent from 2006-10, he added.
But China is still a developing country where a steady energy demand and greenhouse gas emissions increases are unavoidable, because millions of people are yet to be hoisted out of poverty and Chinese firms are manufacturing for the rest of the world.
Conference representatives are expected to draft a climate change proclamation as a reference for the Parties Conference of United Nations Framework Convention on Climate Change to open in Poland next month.
More than 190 nations have agreed to seek a new UN treaty to cut greenhouse gas emissions caused by human activity, and prevent rising temperatures from causing more heat waves, droughts, powerful storms and rising sea levels.
China and other developing countries want the technology transfer to be provided in the treaty, which negotiators hope to seal in Copenhagen next year.
Agencies contributed to the story