"I want to impulse-buy again," said Louise Van Veenendaal, an actress stylishly dressed in Midtown Manhattan on Thursday. But these days, economic anxiety is prompting women to steer clear of stores. They even refuse to look at sales flyers.
Sale slump
Major US retailers suffered disappointing October sales as financial crisis-jittered consumers are pinching their money at discretionary items like clothes and even carefully planning purchases of basic necessities like baby formula.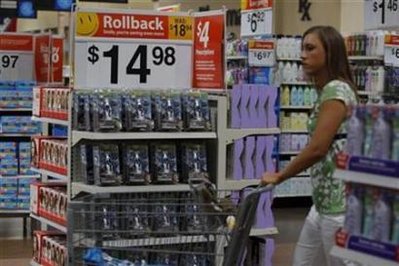 A customer pushes her shopping cart past a display at a Wal-Mart Supercenter in Rogers, Arkansas June 5, 2008. [Agencies]
Sales at Neiman Marcus, the luxury department store, dropped nearly 28 percent in October compared with the same month last year. Sales fell 20 percent at Abercrombie & Fitch, nearly 17 percent at Saks, 16 percent at Gap and nearly the same percentage at Nordstrom.
Of the more than two dozen major retailers that reported sales figures on Thursday, most had sales declines at stores open at least a year, the majority of the decreases in double digits. Deep discounters like Wal-Mart and BJ's Wholesale Club reported gains.
The sales slump even posed the threat of survival of some chains and signaled probably the weakest Christmas shopping season of the nation in a decade with too much fall merchandise on their shelves.
Bargain wave
The dire Christmas sales expectation forced stores to offer eye-catching bargains seven weeks before the holiday as malls are decorated with sale signs and extending their hours.
"This is the year the consumer has been given a holiday gift beyond belief," said Marshal Cohen, chief industry analyst for NPD Group. "You can get anything, anywhere, at any price."
Kohl –is now offering $250 diamond earrings at $77.99, while Kmart is selling a Sylvania 32-inch LCD television as an "early Black Friday" deal for $439.99 instead of $549.99.
As consumer spending represents two-thirds of the nation's economic activity, analysts said the striking retail sales declines almost certainly forecast an extended, severe recession, which confronts President-elect Barack Obama.
"October was every bit as bad we feared," John D. Morris, a retailing analyst with Wachovia was quoted by the New York Times. "It maybe even worse. October's numbers were so disappointing, particularly in the final week, which had to leave retailers in a state of high anxiety going into the holiday season."
Consumers are cutting their spending for many reasons, but high on the list is the weakening employment picture. Even people who still have jobs are shunning spending as they hear of layoffs among friends and family. Unemployment has hit 6.1 percent, and a new jobs report due Friday is expected to show further deterioration.
Even Wal-Mart, whose sales at stores open at least a year were up 2.4 percent in October, began a big discount program on Thursday, lowering prices on thousands of food and gift items. It is cutting the price of a Magnavox Blu-ray player to $198 from $229, and of the Battleship board game to $10 from $14.38.
Only a few months ago, retailers thought they were prepared for the economic slowdown. They cut inventories in anticipation of weak back-to-school sales. But to their shock, sales declines reached double-digits in September, only to get worse in October.
But the result is – they still have to court people to go in shops even as Christmas merchandise is starting to arrive.
"I've never seen as many 'percent off the entire store' promotions as we're seeing right now," Kimberly Greenberger, a retail analyst at Citigroup told the New York Times.
Retailers that include American Eagle, Ann Taylor, Chico's, Soma, Gap, Victoria's Secret, Bath & Body Works, Talbots and J. Jill have offered discounts on their entire merchandise lines or are letting shoppers buy one item and take 50 percent off a second, she said.
"What we're hearing anecdotally from different retailers is that when they're putting something on sale at 30 or 40 percent discount it is no longer having an effect on consumers," Ms. Greenberger said. "They have to cut prices 50 to 60 percent to get consumers interested."
Other analysts who spend time prowling the nation's stores to track trends say that consumers are simply shell-shocked by all the grim financial news.
"Consumers just look like zombies," said one of them after visiting a mall last week. "They're there in person, but not in spirit."
Cohen of NPD Group said wise retailers would not sacrifice profits just to shove goods out the door. But he acknowledged that in such a panicky climate, the race to discount merchandise had become nearly unstoppable.
Dangerous tactic
Retailers usually make most of their profit during the Christmas shopping season. And while they always offer impressive sales, they usually plan to discount only about 25 percent of their merchandise, not half of it,Cohen said. Too much discounting erodes profits. And by cutting prices so early, retailers risk running out of stock, or color and size options, before the season's home stretch.
A few retailers have strong balance sheets, but many do not, and with credit hard to find they can ill afford a disastrous Christmas season. Analysts said they expected a new wave of bankruptcies after the first of the year.
Bankrupt and ailing retailers are undercutting some of their healthy peers. Last week, for instance, Mervyn's announced a 149-store liquidation sale just in time for the holidays. Other such sales are already under way at Steve & Barry's and Linens 'n Things. Circuit City, the struggling electronics chain, began liquidation sales this week at the 155 stores it is closing.
"What's happening is the retailer is almost saying, 'Please just come in,' " he said. " 'We will pay you to shop.' "