Pop singer Zang Tianshuo has been arrested for his alleged involvement in gang fights, a Beijing public security bureau spokesman said on Thursday.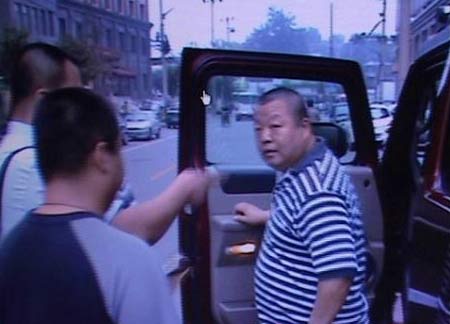 Pop singer Zang Tianshuo (R) has been arrested for his alleged involvement in gang fights. [Sina.com]
Zi Xiangdong said Zang has been in police custody for some time.
The Xinhua News Agency reported Thursday the case will soon be transferred to a procuratorate office for legal proceedings.
Zhou Haiyang, a prosecutor of Fangshan district, who is not directly involved in the case, told the website Sina.com that based on his professional knowledge, Zang could face more than three years in jail if found to be the boss of a gang.
Zang was detained on Sept 28, a source told Xinhua.
The Beijing Times reported Thursday that Zang was arrested because he was allegedly the head of a gang whose members worked in his bar in Beijing.
The gang has allegedly been involved in a number of fights. In 2003, a bar owner in Langfang, Hebei province, had a dispute with his partner, and hired members of Zang's bar to settle the dispute.
A fight ensued in which a man was killed.
Zang's group was also said to be involved in another fight in eastern Beijing. No casualties were reported.
Early this year, one of Zang's gang members, who was arrested in Changchun, Jilin province, blew the whistle on Zang's role in the fights, Xinhua reported.
As one of China's first rock musicians, Zang was voted the most popular mainland singer and songwriter at the 9th China Music Awards in 2003.
An agent of Zang, who declined to be named, told China Daily Thursday he knew nothing about the case.
Zang's mobile phone has been turned off since September, Sina.com said.
Zang is not the first Chinese star to be linked to criminal activities.
In May last year, another popular singer, Xie Dong, was arrested on charges of drug abuse. Xie admitted to the police that he had been addicted to drugs for two years.
On Jan 9 this year, Beijing Television reported that police arrested film director Zhang Yuan, cameraman Zheng Yu and artist Mi Qiu in connection with drug abuse.