Firms in Guangzhou have been told to dispose of recalled milk contaminated with melamine in an appropriate manner or face severe punishment, a senior environment official said on Tuesday.
Zheng Zhewen, director of the Guangzhou environmental protection bureau, said: "We will heavily punish people and organizations that dump or dispose of milk without due care."
On Sunday, a waste disposal company in the Baiyun district of Guangzhou used a compactor to dispose of 18 tons of milk, 6 tons of which spilled into the local river, he said.
People living nearby complained of a foul smell and were worried the milk would pollute the water, he said.
To allay the public's fears, the bureau said yesterday that the melamine content of the water was within safe limits and that the drinking water supply would not be affected.
Nevertheless, the disposal firm will be fined up to 200,000 yuan ($29,000) for its irresponsible behavior, Zheng said.
"We will investigate not only the disposal company but also the people who hired it to dispose of their recalled milk," he said.
Just three firms in Guangzhou - Luyou industrial waste recall and disposal, Xinfeng landfill and Likeng garbage disposal - are qualified to handle the disposal of recalled milk. However, none of them has handled any milk in the past month, he said.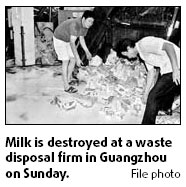 A spokesman for Luyou said: "We disposed of about 300 tons of recalled milk more than a month ago, but nothing since then."
The company uses the latest technology to burn the milk, a process that also breaks down the melamine, he said.
To process 1 ton of milk in this way costs 2,500 yuan, so some firms look for cheaper alternatives, Lu said.
The environment bureau discovered that the Baiyun firm charged just 1,500 yuan to dispose of 18 tons of milk.