At least 35 people have been killed and 47 are still missing following landslides in Yunnan, the provincial civil affairs department said on Monday.
Ren Xuli, an official from the department told China Daily: "We are still waiting for updates from our rescue teams in some small towns that have been cut off by the mud-rock flows."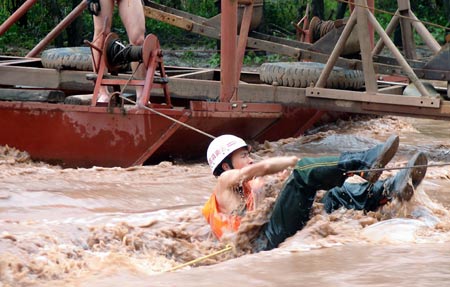 A firefighter crosses a river using a rope to rescue villagers in Lufeng county, November 3, 2008. [Huang Jianchun] 
Heavy rainfall hit the area last weekend and caused torrents of mud and rock, which have affected nearly 1 million people in 13 counties of the Chuxiong Yi autonomous prefecture, Lincang county and the provincial capital Kunming.
The latest reports show the electricity supply, telecommunications, irrigation, education and health facilities have been affected in the mudslide-hit area with 284 houses collapsed and 735 others damaged.
The direct economic loss is estimated to reach about 52 million yuan ($7.6 million).
The railway service between Kunming and Dali has been cancelled due to the heavy rain and mudslides.
More than 27,000 people in Chuxiong have been evacuated to safe places and five disaster relief teams are trying to help the affected people.
The Yunnan branch of the Red Cross Society of China has sent the first batch of relief materials, including tents and quilts worth about 170,000 yuan to Chuxiong Monday morning.
The local government is also sending rice, clothes and other necessary materials in aid.
Two roads cut off by the mud-rock flows have reopened over the past day after continuous repair efforts, allowing access for rescue and relief staff.
Sun Jun, chief forecaster with the National Meteorological Center told China Daily that more rainfall will hit Southwest China in the coming days and earthquake-hit areas of Sichuan province should take precautions against the steep fall in temperature and geological disasters, such as landslides and mud-rock flow.
"Southwest China will see an increase in rainfall in the coming three days and earthquake-hit areas, such as Wenchuan, will see light to moderate snowfall," he said.
"The heavy rainfall in autumn is not often seen in this area and people there should prepare for that."
The heavy rain has also hit northern and western parts of the Guangxi Zhuang autonomous region and killed eight people.
Yesterday afternoon, the State Flood Control and Drought Relief Headquarters issued urgent warnings against flood to Yunnan, Guizhou, Sichuan, Chongqing, Guangdong, Guangxi and Hunan provinces.
A working group from the headquarters has been sent to Chuxiong.