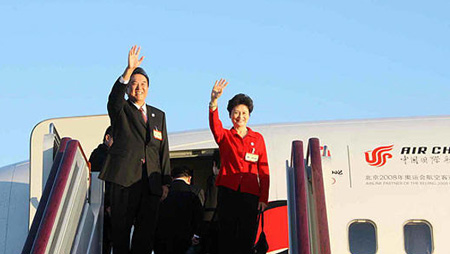 Chen Yunlin (L), president of the Association for Relations Across the Taiwan Straits, waves before departure for Taiwan for a historic visit Monday. [Xinhua]
Chen Yunlin, president of the Association for Relations Across the Taiwan Straits (ARATS), accompanied by a team of officials, will reach Taipei today.
Related readings:


Visit a Forward Move for Relations


Envoy set for first Taiwan visit


Taiwan visit to focus on economics


SEF chairman says ARATS chief's visit to Taiwan significant
Chen will meet with Chiang Pin-kung, chairman of Taiwan's Straits Exchange Foundation (SEF) tomorrow. The two organizations would sign some documents in the afternoon and met the press.
An official in Taiwan said Sunday that nearly 600 reporters from 138 media organizations were approved to cover the upcoming Chinese mainland delegation's trip to Taiwan.
Liu Teh-hsun, deputy director of Taiwan's Mainland Affairs Council, told a news conference that 1,047 journalists had applied to cover the event and 574 of them were finally approved. They were either Taiwan reporters or of media outside the island.
Liu said Chen's delegation would arrive at Taipei's Taoyuan airport around 11:00 am Monday and Chen was to deliver the first formal speech of the visit at the main hall of the Grand Hotel.
It would be the first meeting held in the island between the two organizations.
Chen is also planning to visit on Monday to the wife of Koo Chen-fu, former SEF chairman who passed away in 2005, and Chen would have a view of Taipei's city outlook by ascending the "TAIPEI 101", a 508-meter building with 101 floors.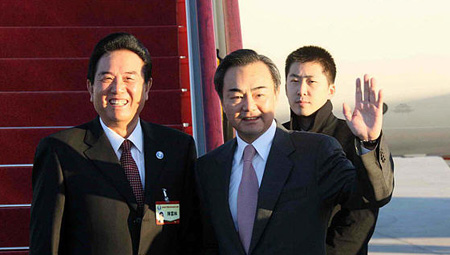 Wang Yi (C), minister of the Taiwan Affairs Office of the State Council, sees off Chen Yunlin (L), president of the Association for Relations Across the Taiwan Straits, for a historic visit to Taiwan Monday. [Xinhua]
On Monday evening, Chen would attend the SEF's welcoming dinner, adding ARATS vice president and SEF vice chairman would hold preliminary talks at 3:30 pm on the day.
Chen also plans to meet with major political leaders in the island, including ruling Kuomintang (KMT) chairman Wu Poh-hsiung, KMT honorary chairman Lien Chan, Mainland Affairs Council chair Lai Shin-yuan and the People First Party chairman James Soong, on November 4 and November 5.
Chen Yunlin and his delegation would visit a technology and industry zone in Hsinchu on November 5.
On the fourth day of the delegation's trip to Taiwan, they would attend a ceremony in which the mainland would present giant pandas and rare plants to the Taiwan compatriots, while the Taiwan side would present rare animals to the mainland. The delegation will leave Taiwan on November 7.