BEIJING -- China on Thursday urged Sudan to continue the search for two kidnapped Chinese workers, and take all effective measures to ensure the safety of Chinese personnel and safety in the country.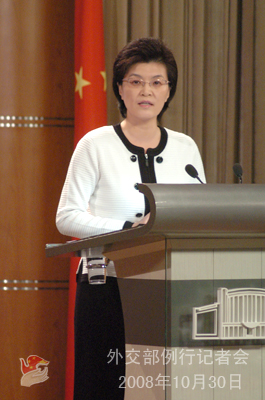 Jiang Yu, China's Foreign Ministry spokesperson,  speaks at a regular press briefing that the rescued workers were out of danger October 30, 2008.  [Xinhua]
According to the latest information from the Foreign Ministry, four of the nine kidnapped Chinese workers from the China National Petroleum Corporation (CNPC) had been killed, with three rescued instead of four as earlier reported, and two missing.
Foreign Ministry spokesperson Jiang Yu told a regular press briefing the rescued workers were out of danger.
China had sent a group of officials to Sudan on Thursday morning to handle the aftermath of the kidnapping issue.
The workgroup, headed by the Chinese Foreign Ministry and involving officials with the Ministry of Commerce and the CNPC, will negotiate with the Sudanese side on all-out efforts and measures to rescue the missing workers, according to the Foreign Ministry.
Jiang said thbeijinge workgroup would require the Sudanese side to go all out to rescue the missing workers, bring the murderers to severe punishment, and take effective measures to ensure the safety of Chinese personnel and property there.
Related readings:


 Group sent to Sudan to handle kidnapping issue


 Killings of Chinese workers in Sudan condemned


 China condemns killing of 4 oil workers in Sudan


 5 Chinese oil workers kidnapped, killed in Sudan
The nine workers were kidnapped from an oil field near the western Sudanese region of Darfur on Oct. 18.
The Chinese Embassy said they were taken by unknown militants in the Southern Kordofan State, but no armed group had claimed responsibility for the kidnapping.
Sudanese officials earlier reported to the Chinese Embassy that five of the nine kidnapped workers were killed on Monday, with two rescued and two missing. It revised the numbers late Tuesday afternoon, saying four were killed, four were rescued and the other was still missing.