Deaf Ears To The Escalating Chaos
Mr. Song warned the public of possible speculation by business dealers driving up the auction prices unboundedly, with the obvious aim of exploiting Chinese patriotic sentiments in retrieving their national treasures.
"The best reaction to this incident is to turn deaf ears to the chaos", Song said to a Xinhua reporter. He also recommended restraints in media's coverage.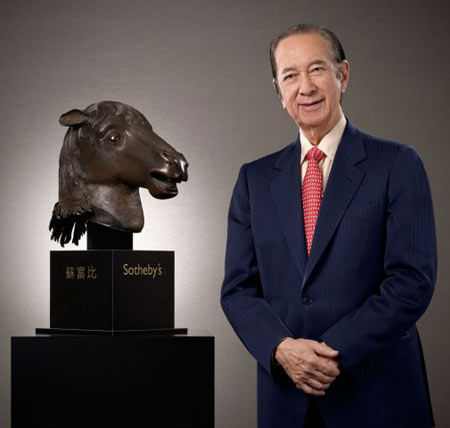 An undated photo shows Hong Kong entrepreneur He Hongshen standing by the Horse bronze, which he bought at a price of HK$69.1 million and donated to the motherland. The Horse bronze was stolen from China in the Late Qing Dynasty during the opium wars (1839-1842). 
Escalating national patriotism pushed previous auctions of the Ox, Monkey, and Tiger bronzes up to prices as high as HK$7 million, HK$8.18 million and HK$15.44 million respectively, all purchased by mainland giant China Poly Group.
In September, 2007, Hong Kong entrepreneur He Hongshen bought the Horse bronze at an unprecedented record price of HK$69.1 million before the auction started and declared he would donate the precious treasure to the motherland.
The national treasures are being retrieved, but, at a costly price.
Zong Tianliang expressed his concern over the trend of wildly escalating prices in the auction market, especially for the Yuanmingyuan Garden relics. "200 million yuan (asked by Christie's) is no doubt beyond reach of any ordinary institutions and individuals. This kind of craziness does no good to the relics itself and the culture it bears," he said.
The only exception so far befell on the Boar bronze, whose successful return to China in 2003 went through without any involvement of auction companies. After great endeavors and much negotiating, the special mainland fund finally persuaded the American collector to transfer the Boar statue, at a cost of about US$1 million, much more reasonable in comparison.