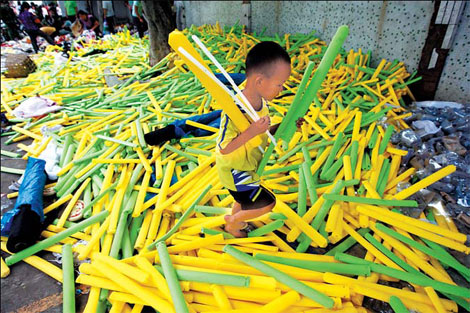 A boy plays on a pile of toys outside a factory in Dongguan, Guangdong province, owned by Hong Kong-listed Smart Union Group. The toy factory has shut down amid the US financial meltdown, which has triggered a domino effect globally.
Two of Hong Kong-listed Smart Union Group's factories in Guangdong closed their doors on October 15, leading to the loss of more than 6,000 jobs. Six days later, the Ministry of Finance raised the export rebate for toy manufacturers.
These two incidents are a clear indication of China's economic scenario: Struggling manufacturers and exporters, the loss of a large number of jobs, slowing economic growth and a prompt response from the government.
And more than that, they send an unmistakable signal that the global financial crisis is no longer a financial disaster. It has evolved into a real economic catastrophe that has swept not only the United States and Europe, but also faraway corners of China.
With the global economy expected to remain in the doldrums for quite some time, the Chinese economy is likely to face one or two difficult years, economists say.
As Paul Krugman, this year's Nobel economics laureate, points out: "Even if the (US) rescue now in train succeeds in unfreezing credit markets, the real economy has immense downward momentum."
"Many problems in the United States, such as those concerning credit cards and non-financial corporate losses, are yet to surface," says Zhao Zhong, senior consultant with Beijing Adfaith Management Consulting. "It is too early to conclude that the worst time has come."
Most reputable forecasters currently foresee that the US economy will start picking up again around the middle of 2009, with a broadly similar pattern in Europe, according to Louis Kuijs, the World Bank's senior economist in China. "That does mean that, for the year as a whole, economic growth in the developed world is currently forecast to be very weak in 2009."
That sounds bad for Chinese policymakers, who have to issue a number of supportive policies to shore up an economy whose growth dropped to 9 percent in the third quarter from nearly 12 percent last year.
Just several months ago, those who urged the government to take more precautionary measures to combat potential overcapacity and an economic hard-landing were booed by optimists, who were still obsessed with the country's "two prevents" drive - prevent the economy from overheating and inflation from going wild.
Now, as the US financial turmoil unfolds and is biting into the real economy, few remain that optimistic. Worse, no one knows if the worst has already hit. Probably not, many say.
The Chinese economy has seen its pillars of growth - exports, retail sales and investment - all shake under the double whammy of the global economic slowdown and domestic tightening since last year. Despite impressive export growth in September, for example, many believe this momentum will not be sustained.
"So far China's export growth has held up well, remarkably well, given the slowdown in the world economy, underscoring China's strong competitiveness," says Kuijs. "However, we do think that a further slowdown is likely later this year and into 2009, given that the worst of the global financial turmoil, and its impact on the real economy in the rich countries and many emerging markets, is still unfolding."
Investment in China's export sector will also be affected by the international turmoil and weakness, he says, adding that "investment in the parts of China's economy catering to the domestic market should be affected less, and public investment is likely to be scaled up somewhat in response to the slowdown".
Standard Chartered Bank (China) in its latest report reduced its China GDP forecast for this year to 9.6 percent from 9.9 percent, with fourth quarter growth further dipping to 8.6 percent. For the next year, the growth estimate would be a poor 7.9 percent while it is even lower at 7.1 percent for 2010. "We are putting them on downgrade watch," said the report.
Ha Jiming, chief economist of China International Capital Corp, agrees. "The hard times will not last for months, but for years," he says. "Even 2009 will not be the bottom (for the Chinese economy)."
This gloomy outlook sounds an alarm for Chinese policymakers, who have seen the economy expand by an average 10.6 percent over the past five years and more than 9 percent on average for the past three decades.