Dacaiyuan or "Big Vegetable Garden" no longer lives up to its name.
Once a village of open farmland in Linxian county, Henan province, it has, like many parts of rural China, been transformed in the past three decades into a modern suburb with factories and multi-story housing. Only a few acres of wheat and vegetables at the entrance to the village sit as a reminder of the village's past.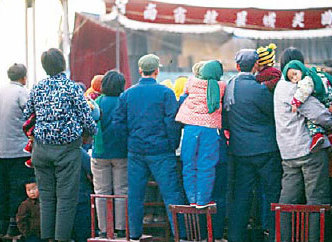 Linxian villagers gather to see a local performance during Spring Festival in the 1980s. Performers were local teachers, paid by the collective.
Nancy Jervis has been tracking these momentous changes in Linxian county for more than three decades. A New York anthropologist and one of the first American academics to study social and rural life in China, Jervis first visited the village in 1972, and has been coming back since.
According to Jervis, the relative prosperity of the village today is a result of two things - the accumulation of private wealth brought by the temporary migration of villagers to the cities and the village leadership's ability to adapt to change.
Village doctor Shi Cunji, 64, was one of the earliest migrant workers in Central China. In 1980, he left Dacaiyuan and went to the neighboring city of Hanzhong to work in construction.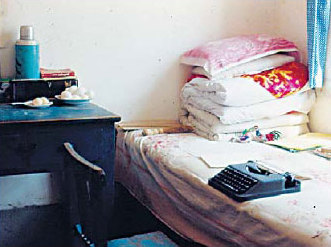 The room American anthropologist Nancy Jervis lived in farmer Shi Cunji's home, in 1982.
"We were too poor. I earned only a few work points at the clinic," Shi recalled. In communal days the daily labor of peasants was calculated by work points which became the basis for their cash income at the end of the year, after their ration of grain was deducted.
The richest villages might be able to pay more than 1 yuan for each work point, while poor villages could only pay 10 fen (1.4 cents). Often the work points a peasant earned was not enough to pay for grain rations.
"My family of eight people had only one mu (667 sq m) of land and raised one pig. We earned about 100 yuan ($14.2) a year. There were no other options."
Shi worked in Hanzhong, Shaanxi province, the first year, mailing home about 1,000 yuan ($143).