Traffic ran relatively smoothly in Beijing Monday, the first day in which the vehicular ban took a fifth of the capital's 3.5 million cars off its roads, the local transportation authority said.
Fewer streets were congested within the Fifth Ring Road, as the ban applied to private automobiles with license plate numbers ending in 1 or 6.
However, there was little apparent impact on notoriously clogged main streets downtown, such as the Second and Third Ring roads.
"Traffic flow will ease on many congested roads but not on the city's main transportation arteries," deputy head of the city's transport command center Kong Linghui said.
The move is part of a six-month trial that took affect last Saturday, keeping private cars off the roads for one weekday per week depending on their license plates' final digits.
It comes on the heels of a policy adopted from Oct 1 that has kept about 30 percent, or 800,000, vehicles from the roads a day by placing a similar ban on government cars.
In compensation, the municipal government has waived road toll fees for one month and expanded public transport by 10 percent to accommodate the anticipated commuter increase.
Government institutions and private enterprises were also encouraged to switch office hours to avoid the rush hours.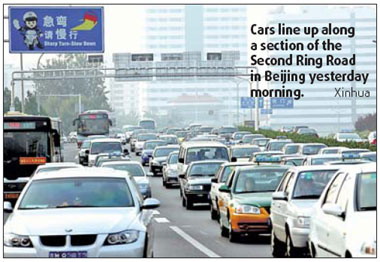 However, not everyone was observing the ban Monday, and local media reported an average of more than one violator per minute during rush hour on the Fifth Ring Road.
While the city government insisted the new ban will ease congestion and reduce vehicular emissions, some experts said the measure will do little, advising governmental promotion of greener fuels and higher car ownership requirements.
"Beijing should expand use of cleaner gasoline, increase fuel taxes and parking fees, and start collecting congestion fees," Yang Fuqiang, chief representative of the US-based Energy Foundation in Beijing, said.
Xinhua contributed to the story