SHENZHEN: Chinese scientists have worked out the first genome draft map of the giant panda to figure out exactly what makes the endangered species tick.
"By sequencing the genome, we have laid the genetic and biological foundation to gain a deeper understanding of this peculiar species," Wang Jun, a scientist with the Beijing Genomics Institute's Shenzhen branch (BGI Shenzhen), a core participant in the International Giant Panda Genome Project, said on Saturday.
The genome map could explain why pandas eat bamboo, have black circles around their eyes, produce few offspring, and why grownup pandas are so huge but the cubs weigh only 1 percent of the mothers' weight, he said at a press conference announcing the mapping's completion on Saturday in Shenzhen.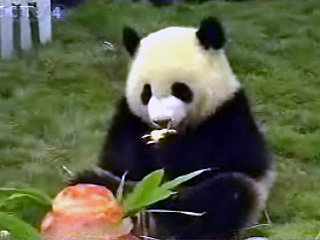 Jing Jing
From March, scientists from China, Britain, the United States, Denmark and Canada have participated in the project.
They chose a 3-year-old female panda named Jing Jing from Sichuan province for the genome sequencing. Jing Jing was also the model upon which the Beijing Olympic fuwa mascot who shared her name was based.
"We have done such a huge amount of research that if we compiled the genome sequence into a book, it would be as tall as Shenzhen's 384-m-high Diwang Tower," Wang said.
The data also support the viewpoint held by the majority of scientists that the "giant panda is a subspecies of bear".
Scientists also discovered that the genome of the dog is the closest, at 80 percent, to the giant panda in structure, and it has a great similarity at 68 percent, to human beings.
But more importantly, they try to find out why giant pandas are so rarely sexually active, as this lack of libido has contributed to the rare species' population decline.
"We hope the genome map could help genetically explain why giant pandas have little reproductive capability so that scientists can help them deliver more cubs," Wang said.
In addition, scientists hope to boost pandas' immunities.
China is home to about 1,590 wild pandas, most of which live in Sichuan, Shaanxi and Gansu provinces. There were 239 pandas living in captivity in the country in 2007.
BGI Shenzhen scientist Yang Huanming said his colleagues will work on mapping out a detailed genome sequence of the panda by the end of this year.
Chinese scientists have made great strides in genetics studies and genome sequencing in the past few years through both their own efforts and participation in international projects, Yang said.
Domestic scientists have contributed to the genome sequencing of rice paddies, silkworms, hens and pigs. Last October, they finished sequencing the first human genome of the Han Chinese, Yang said.
Xinhua contributed to the story