HONGHE, Yunnan: The ciwujia herbal remedy suspected of causing the deaths of three people in the southwest region failed to meet health standards, the Yunnan provincial authorities have said.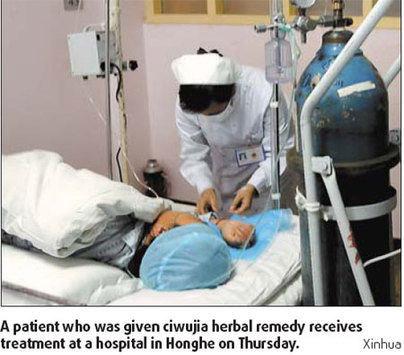 Tests on samples from batches 2007121511 and 2007122721 of "Ciwujia Injection" used in the No 4 People's Hospital of the Honghe Autonomous Prefecture of Hani and Yi Ethnic Groups showed the products to be substandard, said Sun Yuemin, the leader of the team investigating the deaths and a senior doctor with the No 2 Hospital affiliated to Kunming Medical College.
"The herbal remedy was produced by Wandashan Pharmaceutical. It differed in shades of color. Some looked turbid and some rubber caps of the bottles were swollen," he said.
"But we are still unsure as to what caused these problems."
Experts dispatched by the Ministry of Health had tested 180 samples from the two batches, but found no toxins such as rodent poison, pesticides or herbicides, the Yunnan provincial health department had said on Thursday.
Wandashan Pharmaceutical in Heilongjiang province had produced the remedy in question in December. Its contents were extracted from ciwujia, a type of Siberian ginseng
In total, 19 people had used the remedy at the No 4 People's Hospital of Yunnan's Honghe Prefecture, said hospital president Liu Ru.
Six patients reportedly had strong adverse reactions, including vomiting and coma, after being injected with ciwujia from the two batches of injections. Three died in hospital on Monday.
The others were described as stable, but still under observation.
The firm recalled 3,600 bottles of the remedy, less than 10 percent of the total of the two batches, following the deaths of the three people, said Feng Dianguo, the company's deputy party chief.
"Nearly 48,000 bottles were produced for the two batches and we recalled 3,600 bottles, or 360 liters. The rest had been used."
Wandashan Pharmaceutical, with more than 570 staff, is said to have suspended production to cooperate with investigations.
Siberian ginseng herbal remedies are often used to treat thrombosis caused by a weak liver and kidneys.
It is also believed to be helpful in treating coronary heart disease and menopausal problems.
Xinhua