Consumers in Shanghai and Guangdong said they are willing to buy domestically produced milk products if their quality is guaranteed, as the affected dairy firms work hard to improve their products in line with official standards.
According to the latest survey conducted by Internet portal China.com, almost 85 percent of respondents are concerned about milk quality.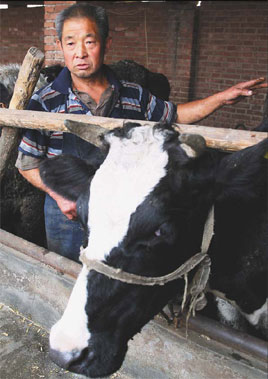 Xing Zhanchun, a dairy farmer in Shijiazhuang, Hebei province, said he believes the current difficulties faced in the dairy industry that were brought about by the Sanlu milk scandal will pass eventually. [Huo Yan] 
One of the respondents, Yang Xiaowei, 31, said the most important issue for dairy firms is to improve quality and avoid similar problems in the future.
"As soon as safety is guaranteed, I would like to continue to buy domestically-produced milk for my child," said Lin Huihui, 29, the mother of a 10-month-old baby.
Sales of domestically produced milk power have returned to 80 percent of their pre-scandal level, and liquid milk products have recovered to 75 percent, according to statistics issued by the Ministry of Commerce earlier this month.
"The milk scandal is likely to enhance dairy firms' awareness and accountability," said Liu Zheng, an analyst with the Beijing-based SDR Consultant Company.
Liu said consumers should give a chance to the affected milk firms as long as their products are safe and certified.
Milk sales are returning to normal in Guangzhou, capital of Guangdong province, the Information Times newspaper reported.
On Sept 21, the city's Quality and Technical Supervision Bureau announced that liquid milk produced after Sept 17 is safe.
Salespeople are working hard to promote milk to skeptical consumers.
In a Trust-Mart located in Dongshankou, a salesman for Bright Dairy - one of China's major dairy brands - attracted customers this week with a folder containing a quality inspection report and positive newspaper stories. Mengniu, another major domestic dairy brand, has sought to prove its reliability by posting a 71-page survey report released by the General Administration of Quality Supervision, Inspection and Quarantine (AQSIQ), the nation's top quality control agency.
The latest tests on Chinese liquid dairy products found no traces of melamine, AQSIQ said on Thursday.
This was the eighth investigation following the tainted baby formula scandal that killed at least four infants and sickened more than 53,000 others, according to AQSIQ.
The latest tests covered 855 batches of liquid milk, including yogurt, from 77 brands in 22 large and four medium-size cities, the agency said.
To date, 3,681 batches of liquid dairy products from 126 brands produced after Sept 14 have been tested and none contained melamine, it added.
Melamine, often used in the manufacturing of plastics, was added to sub-standard or diluted milk to make the protein levels appear higher.