Sanlu Group, at the center of the recent milk food contamination scandal, may go bankrupt and be taken over by Beiijng Sanyuan Food Co, according to media reports on Friday.
The baby formula produced by Sanlu has been found contaminated with melamine, leading to the deaths of four infants. About 53,000 children have fallen ill with various urinary problems including kidney stones after taking Sanlu milk food. About 13,000 infants are still being treated in hospitals as a result.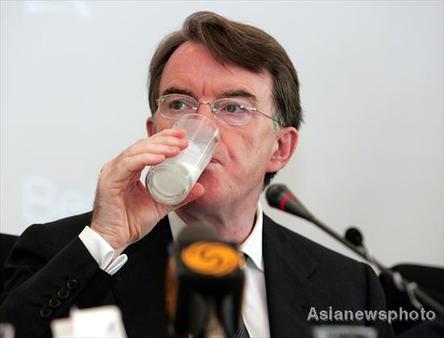 EU Trade Commissioner Peter Mandelson drinks a Beijing-branded yogurt at a press conference in the capital on Friday. Mandelson said he was confident of Chinese dairy products despite the recent tainted milk food scandal. [Asianewsphoto] 
The company has recalled more than 10,000 tons of milk powder, involving more than 700 million yuan ($103 million) in refunds. It will also have to bear the medical expenses for those affected.
Hebei's provincial State-owned asset supervision and administration department has reportedly started clearing Sanlu's assets. It is also looking for another company to take over Sanlu so that its 30,000 workers are not left jobless, China Securities Journal reported on Friday.
Shares of Shanghai-listed Beijing Sanyuan Food, a major dairy producer, were suspended on Friday as it reportedly received a government notice to consider a Sanlu merger plan. The suspension will continue until a decision is made, according to a company announcement.
A Sanyuan official, who refused to give her name, confirmed with China Daily the company's acquisition plans.
Sanyuan has emerged untainted in the recent milk scandal. As a result, its share prices have soared and sales skyrocketed. Its share has risen by the daily 10-percent limit for six straight trading days since Sept 18, closing at 5.59 yuan (82 US cents) on Thursday, up 64.4 percent.
Over the past few days, Sanyuan's liquid milk sales have tripled. The company sells about 70 percent of its products in Beijing and the rest in Shandong, Shanxi, Hebei and Henan provinces.
Chen Lianfang, a dairy analyst with Beijing Orient Agribusiness Consultant, said: "With its reputation in the dairy industry, Sanyuan is qualified to buy Sanlu, which is an expedient arrangement by the government to help the company and dairy farmers.
"The milk scandal should be an alarm bell sounding forever for the dairy industry."