HONG KONG -- The run on Bank of East Asia (BEA) eased Thursday after reassurance from officials and a high-profile tycoon's stock purchase helped soothe panicked depositors.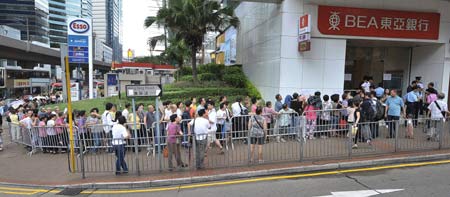 Customers queue up at a BEA branch in Hong Kong, September 24, 2008. Hundreds of Hongkongers swarmed BEA branches for a second day to withdraw their deposits. [Agencies] 
Fewer people were seen lining up outside the bank's branches on the news that the Hong Kong Monetary Authority (HKMA) injected HK$3.88 billion to the inter-bank market and that Li Ka-shing, the city's richest person, had bought BEA shares.
Thousands swarmed to Hong Kong's fifth largest bank by assets to withdraw money on Wednesday after rumors spread, questioning the bank's financial situation amid its exposure to the ongoing US financial meltdown. That was the first bank run in Hong Kong since 1997.
BEA Chairman David Li reassured depositors yesterday, saying that the bank is safe and strong. "I am buying (BEA) shares," he told a reporter in the morning.
Most of the long lines outside the BEA outlets disappeared in the afternoon, and shares in the bank rebounded Thursday after a nearly 7 percent slump the previous day.
Financial Secretary John Tsang reiterated that the bank's financial position is sound and that it has adequate liquidity.
"If they need it, we will provide full support and liquidity," Tsang said. "There's no need to be nervous, we won't stand by and watch with our arms folded." The BEA has not sought any help from the government, he added.
However, the inter-bank market remained tight Thursday, with overnight inter-bank rates rising to nearly 4 percent and the one-month rates trading above 4 percent.
The HKMA injected HK$3.88 billion into the city's inter-bank market, the second injection in less than two weeks, to ease credit tightness and counter deposit outflow from the BEA.
Joseph Yam, the chief executive of the HKMA, said the authority will add more liquidity to the banking system if necessary. "There is no problem in Hong Kong's banking system and bank deposits in the city are safe," he said.
Crowds began to gather outside BEA branches on Wednesday after text messages flashed across the city warning the bank was unstable as it held a large number of assets linked to Lehman's and AIG.
BEA said the messages are "malicious rumors" and has reported the case to police.
In a statement, BEA said its exposure was HK$422.8 million to Lehman's and HK$49.9 million to AIG, out of consolidated assets of HK$396.6 billion.
Merrill Lynch said in a research note the bank has a "sufficiently robust" liquidity and capital position, according to Dow Jones Newswires.