JIUQUAN, Gansu -- Astronaut Zhai Zhigang, a reserve for the two previous Shenzhou missions, will lead the team aboard Shenzhou VII, and is scheduled to make his historic spacewalk at 4:30 pm on Saturday.
Liu Boming and Jing Haipeng, also Shenzhou VI reserves, will join Zhai on the 68-hour mission. All three men are 42 years old and are making their debut flights into space.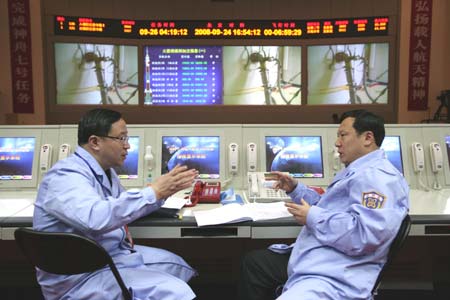 Engineers talk at the mission control center in beijing September 24, 2008. [Xinhua] 
The crew was revealed at a media briefing yesterday afternoon at the Jiuquan Satellite Launch Center in Gansu province.
The astronauts appeared at a fully quarantined facility in their apartment compound and were introduced by Chen Shanguang, head designer of the astronaut system.
"It's not a mere addition of numbers from Shenzhou V, VI to VII," Zhai said.
"The Shenzhou VII mission is a breakthrough for China's space exploration; it is a glorious mission that has historic implications."
Astronauts are an indispensible part of this mission, which will include China's first extravehicular activity.
Wang Zhaoyao, a spokesperson for the China Manned Space Program Office, said: "How well the astronauts can operate independently in space will be a key factor in the success or failure of the mission."
Both Zhai and Liu will work in the orbital module when the spaceship goes into orbit.
While there has been no official announcement on which of them will perform the spacewalk, Zhai was introduced as mission commander and earlier media reports have also suggested it will be him.
Zhang Jianqi, deputy commander-in-chief of China's manned space program, said earlier, however, the duo's roles are interchangeable.
Zhai and Liu, both from Heilongjiang province, joined the air force in 1985 and started at the aviation academy in the same year.
Both were stationed in Tianjin for several years before being selected as astronauts in 1998.
Jing, who will work in the re-entry capsule, was also drafted in 1985. A native of Shanxi province, he, like Liu, was a reserve for the 2005 Shenzhou VI mission.
Shenzhou VII will go into orbit an estimated 583 seconds after liftoff tonight.
Later, Jing will remain in the re-entry capsule while Zhai and Liu move to the orbital module. The half-hour spacewalk on Saturday will be broadcast live on national TV.
The primary crew and their backups Chen Quan, Fei Junlong and Nie Haisheng were selected from 14 astronauts in February.
With the success of this latest mission, six of them will have traveled in space.