China and Venezuela Wednesday signed a dozen agreements, including one on doubling a joint investment fund to $12 billion and another on extending energy cooperation.
President Hu Jintao and his Venezuelan counterpart Hugo Chavez attended the signing ceremony after their one-hour meeting in the Great Hall of the People.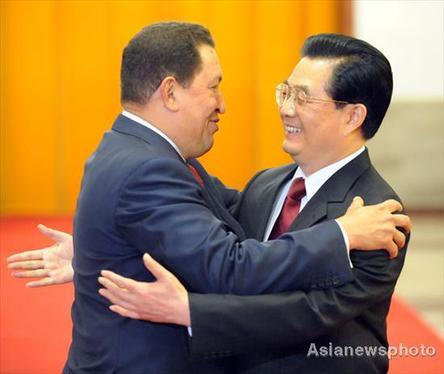 President Hu Jintao (R) and his Venezuelan counterpart Hugo Chavez hug each other in the Great Hall of the People in Beijing, September 24, 2008. [Asianewsphoto]
Though the Foreign Ministry did not give details of the agreements, Chavez reportedly said the two countries had agreed to double the joint investment fund to $12 billion.
During his meeting with Hu, Chavez congratulated China for hosting a successful Olympic Games. "Though we did not get many Olympic medals, we won the medal of friendship with China. All athletes, coaches and officials of the Venezuelan delegation have fallen in love with China and its people."
"I would like to convey the cordial greetings of the Venezuelan people and all the Chinese people in Latin America to you, Mr President. We all like China," he said.
Hu thanked Chavez, who he said is "an old friend of the Chinese people" and had made great contributions to the development of bilateral ties.
On the economic front, Hu said China would like to deepen "all-phase and integrated" oil cooperation with Venezuela, encourage businesses to invest there and establish a trade zone.
Chavez, on his fifth visit to China in a decade, also met with other senior leaders, including top legislator Wu Bangguo and Vice-Premier Li Keqiang. He will hold a press conference today before leaving for Moscow.
Just after landing in Beijing on Tuesday, Chavez said the two countries have agreed on plans for a fleet of four oil tankers and one refinery to process Venezuela's heavy crude oil.
In remarks, telecast on Venezuelan state TV on Tuesday, he said Venezuela's oil exports to China would increase to 500,000 barrels a day next year, and the figure could reach 1 million by 2012.
In April, Venezuelan state oil company Petroleos de Venezuela SA increased its exports to China to 250,000 barrels a day, which accounts for about 4 percent of the country's imports.
In May, Beijing and Caracas agreed to build a 400,000 barrel-a-day plant in Guangdong province, the first such deal between the two countries.
The other agreements signed on Wednesday covered areas from education to infrastructure construction and telecom.
Foreign Ministry spokeswoman Jiang Yu said on Tuesday: "Sino-Venezuelan ties have no ideological color, do not target a third party, and do not influence any other country's relations with Venezuela".