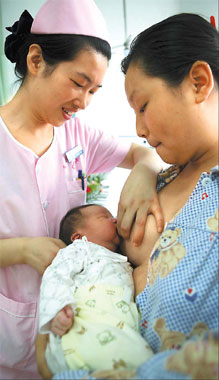 A new mother learns how to breast-feed at a hospital in Xiangfan, Hubei province. Gong Bo
New mother Fei Hong has an additional chore every workday. Every two hours, she goes into the bathroom at work with a breast pump to get a bottle of breast milk, which she then sends through an express delivery service to feed her baby back at home.
Fei, 32, was planning to feed her 5-month-old girl baby formula when she returned to work after four months of maternity leave. But that is no longer a consideration.
Fei is not the only young parent who has to figure out how best to feed her baby in the wake of the ongoing tainted baby formula scandal that has implicated almost all major domestic brands of powdered or fresh milk. The widespread contamination with the chemical melamine has caused the death of four babies and sickened 53,000 so far.
Breast-feeding is the most traditional way, and it is what mothers turn to by instinct. However breast-feeding has lost popularity among many young mothers because of changing lifestyles and lack of awareness of the benefits of breast milk.
Ninety percent of young mothers are healthy enough to breast-feed, but those who do has dropped to 70 percent in China. The rate is even lower with young urban mothers. In Shanghai, only 50 percent breast-feed their babies for no more than three months, according to local health authorities.
"Young mothers these days face huge pressures, and they often don't have sufficient milk of their own. As a result, the proportion of children in our country who are fed baby formula is quite big," Chinese Health Minister Chen Zhu said at a news conference last week.
An overestimation of the health benefits of dairy products, coupled with heavy advertising hyping baby formula by some dairy companies in recent years, have also contributed to the decrease in the number of young mothers breast-feeding their babies.
Until recently, dairy foods have been a rarity in the traditional Chinese diet. The Chinese, like many other Asians, are also more prone to lactose intolerance. Even after the founding of New China, supplies of fresh milk and milk powder were limited to major metropolises. Consumption of dairy products was a sign of wealth.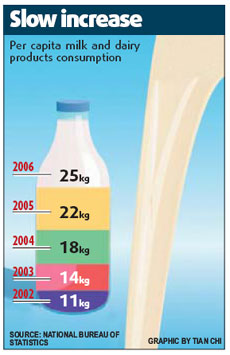 When China began reforms at the end of the 1970s, a host of studies revealed that Japanese teenagers, long considered shorter than their Chinese peers, were now of the same height. A study by Professor Ji Chengye of Beijing Medical University showed that by the late 1990s, the majority of Chinese teenagers were 1.47-1.7 cm shorter on average than their Japanese peers.
This was attributed to consumption of dairy products as experts pointed out that milk with animal protein is more nutritious than soymilk with only vegetable protein.
By 2005, annual dairy consumption per capita in China was still only 22 kg, according to the National Bureau of Statistics, as compared to 268 kg on average in Western countries, 64 kg in Japan and 50.9 kg on average in developing countries.
However, consumption of baby formula has increased dramatically in the past few years, largely due to heavy advertising. Many young Chinese parents have placed their faith in the promises of companies that their products provide all the minerals needed for "wisdom and robustness".
One young mother, Fang Caiying, a villager in Anqing, Anhui province, said she began to mix her breast milk with baby formula when her son was four months old.
"It was to boost his nutrition. It was not because I don't have enough breast milk," Wu said when asked why she switched to baby formula. "I felt I couldn't provide him with enough nutrition myself and formula would be better than breast milk."
"The advertisement said the formula has many minerals that the baby needs," she said. "I have great confidence in these products, even if they cost extra," Fang said.
According to the UN Children's Fund (UNICEF), breast-feeding is the best choice for infants, and no baby formula can replace mother's milk. Mother's milk boosts the immune system and can dramatically reduce infant deaths in developing countries by 1 million babies a year. In the United States, the percentage of mothers who breast-feed their babies has reached 74 percent, the highest level on record.
Dai Yaohua, a Chinese consultant with the World Health Organization (WHO), said it is best to breast-feed for six months and then add other foods and whole milk. According to experts, parents should stop feeding baby formula and introduce whole milk around the time of a baby's first birthday.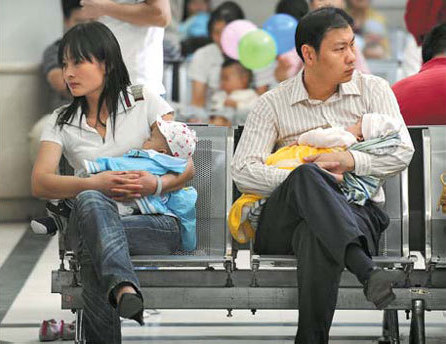 A mother and a father hold their babies as they wait for treatment of kidney stones in a children's hospital in Beijing yesterday. AFP
However, many people in China lack knowledge in this respect. Surveys by health authorities show that up to 45 percent of women, like Fang, have no idea that breast milk is the best choice for their kids and might resort to baby formula.
Dai called for promotion of breast-feeding and for companies to provide breast-feeding rooms or flexible work hours to help young mothers.
Many parents are now turning to foreign brands of baby formula, but the price is holding back many middle- and low-income families.
A 900-g package of Nestle baby formula costs about 178 yuan ($26). A 400-g bag of Sanlu, the first brand found contaminated by melamine, sold for about 18 yuan.
For Fang Caiying, Sanlu was a brand she could afford. Her family earns less than 3,000 yuan per year as farmers.
"Sanlu was already the best I could afford for my daughter," Fang said.
Some parents are turning back to traditional ways.
Gao Jinyun, a 53-year-old grandmother in the Jiangsu provincial capital of Nanjing, feeds her 9-month-old granddaughter the same thing she her own baby 30 years ago - mashed egg, fish, meat and vegetables.
"I brought up my boy this way, and he was always healthy. I don't think it's true that Chinese can't live without milk," Gao said.
Gao and neighbors caught in a similar situation are sharing their recipes. Some use soymilk or rice soup as substitutes.