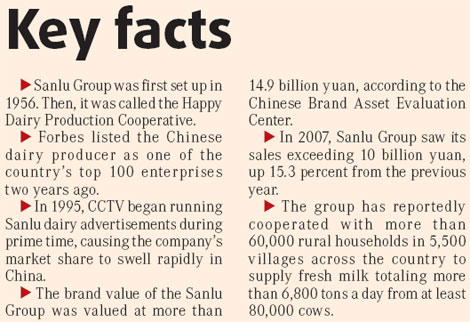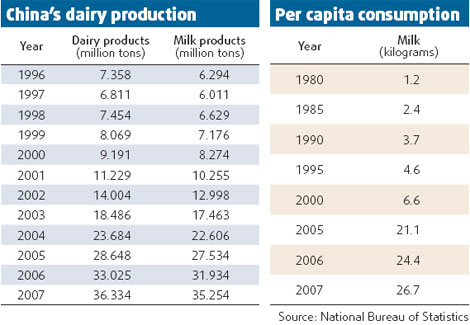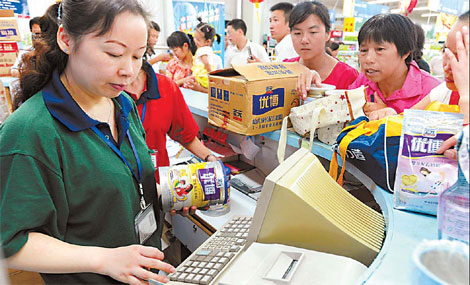 Customers return tainted milk powder at a supermarket in Hefei, Anhui province last week.
Melamine-tainted powdered and liquid milk has triggered a series of negative effects for China's dairy industry, and is expected to be a potentially fatal blow for many domestic dairy businesses.
Inner Mongolia Yili Industrial Group, China's largest maker of dairy products, fell to the lowest in more than two years in Shanghai trading after rival Sanlu Group Co's products were tainted by the chemical melamine.
As of Thursday, Yili fell to 10.88 yuan and Bright Dairy & Food was down to 4.07 yuan. Both were shut for trading on Friday.
Yili had fallen as much as 10 percent, the daily limit, and traded down 5.5 percent to 13.50 yuan at 11:29 am local time last Tuesday. That's the lowest since March, 2006. Bright Dairy & Food Co fell by as much as 10 percent to 4.58 yuan, and was at 4.76 yuan.
Contaminated milk powder made by Sanlu was linked to at least four child deaths and more than 6,244 infants who have been diagnosed with various urinary tract problems, including kidney stones, by last Friday. Consumers may cut purchases of domestic infant powder and switch to imports, Morgan Stanley says.
China's biggest dairy makers, including China Mengniu Dairy Co, Inner Mongolia Yili Industrial Group and Sanlu Group Co were among those with products linked to tainted milk. Mengniu stopped trading last Tuesday. Melamine was first found in Sanlu's products.
China Mengniu Dairy Co fell as much as 11 percent to HK$17.96 last Tuesday in Hong Kong before it closed to trading.
The General Administration of Quality Supervision, Inspection and Quarantine said last Thursday that the tainted product crisis has extended to liquid milk as its test results show nearly 10 percent of samples taken from Mengniu and Yili contained up to 8.4 milligrams of melamine per kilogram. Liquid milk from Shanghai-based Bright Dairy also showed melamine contamination.
The Chinese dairy market was worth $19 billion last year, Merrill Lynch & Co says, citing Euromonitor data.
Consumer confidence
"The widely reported incident could affect consumer confidence in local infant formula products as well as other dairy products before any definitive answers are found", Morgan Stanley's Angela Moh and Lillian Lou said in a note last week.
Sanlu had about 18 percent market share in the milk powder market in China, Credit Suisse Group AG's analyst Catherine Lim said in a note last week. Yili gets 18 percent of its first-half sales from milk powder, Morgan Stanley said.
Sanlu Group, 43 percent owned by New Zealand's Fonterra Cooperative Group Ltd, apologized to consumers and promised to recall all milk powder produced before August 6, Xinhua News Agency reported late last week. The milk powder was tainted with melamine, a white crystalline compound used to make plastics and tanning leather, the government says.
Milk sellers diluted milk with water to increase inventory, and then used melamine, which mimics protein, to boost the apparent protein content, the government adds.
"The Sanlu incident highlighted the issue that China's fast-growing milk industry hasn't had enough self-owned pasture lands to breed cattle", says Xu Biao, a Beijing-based analyst with Citic Securities Co. "They have to purchase raw milk from outside farmers, which may result in quality problems".
The incident underscores the battle China faces in scrutinizing product quality and ensuring food safety. Thirteen babies died of malnutrition in 2004 and almost 200 were admitted to hospital in East China's Anhui province that year after being fed substandard milk.
"Because there's that constant fear of something like this, it really undermines the position of all other domestic brands", says Bruce McLaughlin, CEO of Shanghai Sinogie Consulting Co, which helps foreign companies find manufacturing partners.
Sophie Chen, 32, the mother of a 1-year-old boy living in Shanghai, says the Sanlu scandal led her to decide to buy only imported infant milk powder.
"Most families in China have only one child. We want to give them the best," she adds.
Facing alarm at the latest food safety scandal, the government sacked at least six officials in Shijiazhuang, capital of Hebei province in North China and from the Sanlu Group.
The firings included the mayor Ji Chuntang and vice mayor in charge of agriculture, Zhang Fawang, and the director of the city's food and drug watchdog, Zhang Yi, as well as chief officials for animal husbandry and quality inspection.
The chairwoman and general manager of Sanlu, Tian Wenhua, was also dismissed from what has been China's biggest seller of infant milk powder.
Widespread anger
But with other big dairy companies found to have also used milk carrying melamine, the widespread anger over the poisonings may be far from dying down.
The results of a government-led probe announced last Tuesday showed that out of 109 dairy producers checked, 22 had been found to have produced batches of milk contaminated with the compound.
The infant milk powder produced by most companies in China was safe according to a nationwide check results following the Sanlu baby formula scam, says the State Administration of Quality Supervision, Inspection and Quarantine.
The quality watchdog says it had tested 491 batches of baby milk powder produced by all 109 companies in the country in a special inspection move. And 69 batches from 22 companies nationwide were found to contain melamine.
The number of companies with melamine-tainted milk accounted for 20.18 percent of the milk powder companies in China. And the number of tainted batches accounted for 14.05 percent of the total batches tested.
The melamine content in the Sanlu brand reached 2,563 mg per kg, the highest among all the samples. In other samples, the range was from 0.09 mg to 619 mg per kg.
Safe powder milk products will continue to be sold on the market to ensure supply, according to the government watchdog.
To ensure safety, the quality inspection bodies have been dispatching supervisors to each baby milk powder company since last Wednesday to oversee the quality of raw materials and production procedures. Every batch of products will be checked.
In the wake of the contaminated baby milk powder scandal, the quality inspection authority last Wednesday canceled all kinds of national inspection exemptions previously given to Chinese food producers.
Sanlu has been ordered to halt production. The Hebei provincial government decided last Tuesday to dispatch four working teams to Sanlu Group for a thorough investigation.
Fonterra knew in August
Sanlu's cooperative partner Fonterra of New Zealand said last week it had been told in August that its Chinese partner was selling contaminated milk now linked to the sickness of more than 6,000 babies, as questions arose over how long the problem had been known.
Chinese media first reported on September 10 that babies had fallen ill after drinking the formula, and Sanlu on September 11 issued a recall of its product made before August 6.
"From the day that we were advised of the product contamination issue in August, Fonterra called for a full public recall of all affected product," the company said in a statement.
CBW News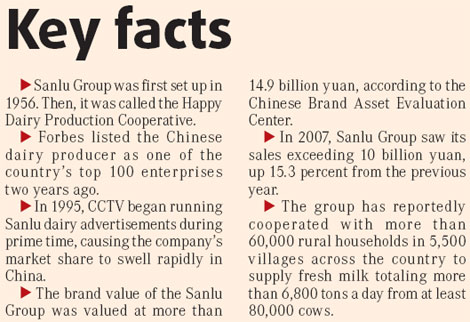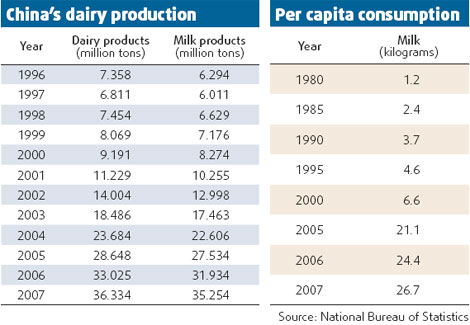 (China Daily 09/22/2008 page7)