HEGANG, Heilongjiang -- Five people were detained in connection with Saturday's coal mine fire which had left five people dead and 26 others missing in northeast China's Heilongjiang Province.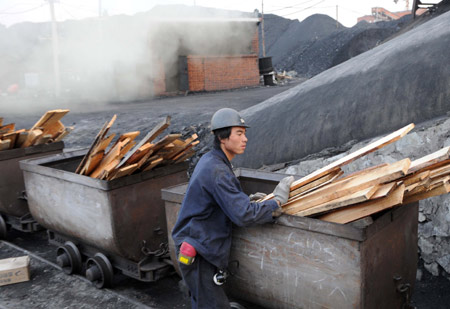 A rescue worker ferries relief materials to buried coal miners after a fire in northeast China's Heilongjiang Province, September 20, 2008. [Xinhua] 
The coal mine's investor, the manager, a vice manager in charge of production and another in charge of ventilation, and the engineer were under police control, said Wang Rui, vice mayor of Hegang City.
Their accounts had been frozen, he added.
The fire was detected at about 3:30 a.m. at Fuhua Coal Mine in Hegang when 43 miners were underground, a rescue headquarters spokesman said.
Twelve managed to escape while 31 were trapped. Rescuers had recovered five bodies of the trapped miners.
The licensed mine, in Xingshan District of Hegang, is privately-owned by the Fuhua Mining Co., Ltd. It has an annual production capacity of 60,000 tonnes.
The city has ordered all its coal mines to suspend operation for checkups.
Rescue efforts and investigation are underway.