The Xiangfen county government has so far paid more than 11 million yuan ($1.6 million) in compensation to victims of the Sept 8 mudslide tragedy, which killed 260 people.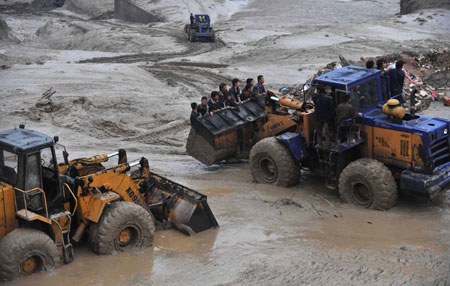 Workers are transported to the mudslide area to conduct rescue operations in Xiangfen County of North China's Shanxi Province, September 8, 2008. [Xinhua] 
Relatives of each victim received 200,000 yuan, a spokesperson for the rescue headquarters, told the website People.com.cn on Thursday.
Those who were disabled in the accident will get 150,000 yuan each, plus a subsidy of 300 yuan per month.
Others will receive 100,000 yuan with a 200 yuan subsidy, and 50,000 yuan with a 100 subsidy, depending on the extent of their injuries.
People who lost their houses have been advised to stay with relatives until funds can be arranged to build new houses for them, the website said.
Children under 18 who lost their parents and are still studying will be exempted from school fees.
Police have made repeated checks of 70 villages near the site of the mudslide, and have put the number of missing at 10.
So far, the bodies of 260 people have been retrieved, and 214 have been identified.
The wall of a liquid iron-ore waste dump collapsed in Xiangfen county, Shanxi province, discharging a huge volume mud and rocks.
An initial investigation showed the collapse was due to negligence. The dump was built in violation of regulations.