SHENZHEN -- Zheng Liping's new job after leaving his post as Party secretary of prefecture-level Yunfu city came as a surprise to many people.
However, Zheng believes his new job is a reflection of China's progress in alleviating poverty, and his efforts in bringing change to his city.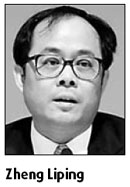 The 47-year-old had served as Party chief of Yunfu, western Guangdong for more than a decade. He applied for a position in urban development offered by the Asian Development Bank (ADB), and was successful.
One of the ADB's targets is to alleviate regional poverty and improve the quality of life.
On Aug 26, the World Bank said the number of people living below the poverty line in China had fallen from 835 million in 1981 to 207 million in 2005.
It said poverty in East Asia - the world's poorest region in 1981 - had fallen from nearly 80 percent of the population living on less than $1.25 a day in 1981 to 18 percent in 2005 (about 330 million), largely due to China's dramatic progress.
"I am now a technical employee of ADB, and no longer a government official," Zheng was quoted by the Guangzhou-based Nanfang Daily as saying in a recent interview before leaving for his ADB post in the Philippines.
"Many people can't understand my decision, including some of my new colleagues at ADB. They said, 'you have been a top official of a city in China, why do you want to work as an employee of ADB'?" Zheng said.
"I want to use my work experience in Yunfu to promote development in the Asia-Pacific region."
In 2003, a report in the Far Eastern Economic Review described Zheng as being "one of the new breed of Chinese leaders".
He holds a PhD in Western economics from the prestigious Nankai University in Tianjin, and a degree in public administration from Harvard University's Kennedy School of Government.
In June 1999, Zheng, at the age of 38, was appointed mayor of Yunfu, an underdeveloped mountainous city. Five years later, he was appointed Party secretary.
During his tenure in Yunfu, he instituted a shake-up of the poverty-stricken city by introducing a series of reforms.
He introduced the nation's first regulation on anti-administrative-monopoly, medical insurance for rural people, and established an education fund to train young farmers.
"I felt happy with my experiments in the city and was able to help my poor countrymen. I rate my performance at 98 on a scale of 0 to 100," Zheng said.
Looking ahead, Zheng said his new job will require a global vision.