KUNMING -- Seventy-one people, including an expectant mother, were hospitalized on Wednesday after a chlorine leak at a chemical plant in Yunnan province.
The leak occurred at about 3:35 pm at the liquified chlorine workshop of the Xundian Phosphorus and Power Company, a subsidiary of the Yunnan Phosphorus Group in Xundian Hui and Yi autonomous county.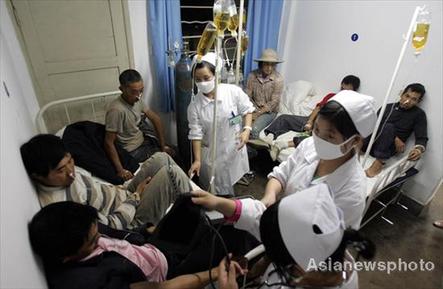 Doctors attend to victims of the chlorine leak on Wednesday. [Asianewsphoto] 
A worker detected the gas and told about 80 people nearby to flee.
The company's firefighters stopped the leakage within three minutes, Wang Xing, deputy manager of the company, said.
Those made ill by the gas were rushed to nearby hospitals. Forty-nine were put under medical observation while 22 received treatment.
By Thursday evening, all were in stable condition.
Bi Guangfen, the expectant mother, gave birth to a baby girl at 9:50 pm on Wednesday through Caesarean section at a hospital in Kunming.
Bi said she was walking by the workshop when the leak occurred. "I could not stop coughing," she said.
Bi was rushed to hospital where doctors said her baby's heartbeat was unusually fast, though they could not ascertain whether it was due to the chlorine.
She was advised to have a Caesarean section. Both mother and daughter are in stable condition, a hospital source said.
Wang said the leak was caused by a damaged ball valve washer.
He said damage to the washer was likely caused by the workers as all equipment at the workshop was relatively new, having been installed only last year.
Environmental authorities said air quality at the company and nearby areas had returned to normal. A press conference will be held today at which further details will be given.
In another development, Yangzonghai Lake in Yunnan province has been polluted by arsenic since the end of June, affecting more than 26,000 people, it was reported on Thursday.
A chemical fertilizer company was found to be the source of the pollutant.
The company had been recycling sewage containing arsenic for years on the premises. This gradually polluted the underground water, sources with the provincial environmental protection bureau said.
The company has been shut down and those responsible for the pollution have been put under criminal custody.
People in the area are still dependent on the government for the supply of drinking water. They have been told not to eat fish from the lake or swim in it.
Local government officials said it will take three years to improve the lake's water quality.