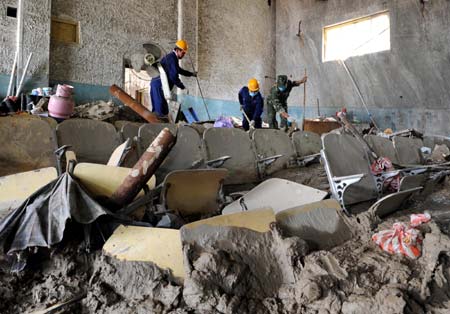 Rescue workers work on the ruins at the key spot of the mud-rock flow in Xiangfen County, Linfen City, north China's Shanxi Province, Sept. 15, 2008. [Xinhua]
XIANGFEN, Shanxi -- Ten people were listed as missing in the Sept. 8 mudslide in north China's Shanxi Province which killed 260, according to rescuers.
Police made repeated checks in 70 villages near the mudflow site and put the number of missing people at 10, rescuers said late Wednesday.
So far, rescuers have retrieved bodies of 260 people from the debris. 214 of them have been identified.
An unlicensed iron ore dregs retaining pond in Xiangfen County burst on the morning of Sept. 8, discharging a huge volume of tailings, mud and rock that engulfed a downstream village with more than 1,000 residents, burying people along with a busy outdoor market.
An initial investigation found the collapse was due to negligence. The tailings dump was built in violation of regulations and had few safety inspections.