More US students will see China as an attractive study destination especially after the country has successfully staged the Olympic and Paralympic Games, a senior US official said in Beijing on Wednesday.
"The Olympic Games have allowed China to take its rightful place on the global stage and one thing we've noticed in the US is that increasingly more American students are coming to China to study," US Assistant Secretary of State for Educational and Cultural Affairs Goli Ameri said at a press briefing.
China is such a popular destination for American students mainly for economic reasons, Ameri said.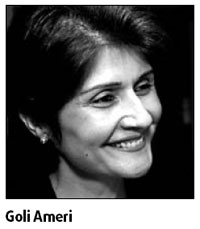 "Smart American students clearly understand that China is playing a very major role in the global economy, and they want to be able to show on their resumes that they have studied in China and understand the Chinese culture and the language," she said.
"I believe that the interest for American students in learning more about China and coming to China is a real interest," she added.
In recent years, China has surged ahead as a destination for American students. The number of US students studying in China increased fivefold over the past decade.
According to the Institute of International Education, nearly 9,000 US students were enrolled in programs in China in the 2006-207 academic year, making China the seventh most popular destination for American students.
It is believed that if this trend continues, China will soon surpass Western European countries to become the most popular study destination for American students.
Ameri, who arrived in China on Tuesday and will leave today, met officials from the Ministry of Education during her visit.
The two sides also signed a memorandum of understanding on a summer exchange program for undergraduate students from the two countries.
According to the MOU, each country will send 30 undergraduate students every year for a three-week study program at the other country's best universities. Students will attend lectures and meet important leaders and government officials.
The program is largely symbolic but its purpose is to sow the seeds of future educational exchanges between US and China, especially at the level of undergraduate study, Ameri said.
"Expanding educational exchanges is a very important component of our bilateral relationship. That's why this MOU is so timely and we are very pleased with it," she added.