Parents across Beijing have been taking their babies to hospital to have them checked for the presence of kidney stones.
The city's municipal health bureau said children can have the tests performed at any of 74 hospitals without making prior reservations.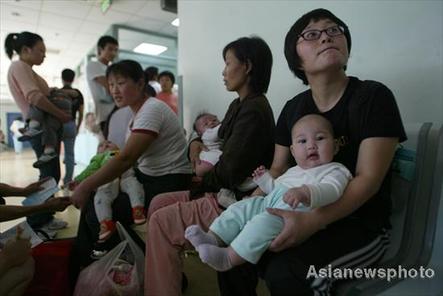 Hong Yan(right) holds her 4-month-old son as she waits for the results of his checkup at Beijing Children's Hospital on September 17, 2008. [Asianewsphoto] 
Two others, Beijing Children's Hospital and Peking University First Hospital, require advance reservations two to three days because of their popularity.
Deng Xiaohong, deputy director of the bureau, said the two hospitals had seen a sharp increase in the number of infants being brought for tests over the past couple of days. More ultrasonic equipment from other hospitals had to be transferred to the two.
Shen Ying, vice-president of Beijing Children's Hospital, said the hospital had attended to more than 800 infants as of noon yesterday.
Hong Yan, mother of a 4-month-old baby, arrived at 6 am to take her place in the queue.
The baby's urine test proved, negative, but Hong said she could no longer trust the milk formula she was feeding her child and will look for something safer.
He Xiaoying, father of a 3-month-old baby, however, was not so lucky. The urine test showed the child may have kidney stones.
He was told to return in five days with the child for an ultrasonic test.
He said he could not wait and would have the test done at another hospital.
Gao Yonglei, the father of a 10- month-old boy, said the urine test proved negative, but he was not convinced, and would seek an ultrasonic test for his son.
"It could be because my son drinks a lot of water. He has been fed the Sanlu formula for seven months, I have to make sure he is healthy," Gao said.
Deng said parents whose infants have been made sick by the Sanlu formula will be able to claim compensation.