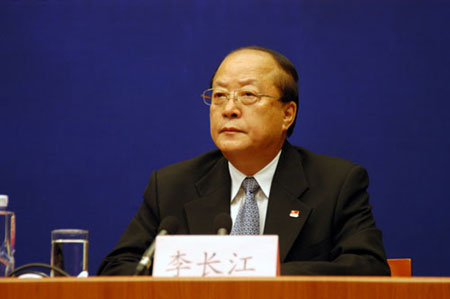 Li Changjiang, head of the State Administration of Quality Supervision, Inspection and Quarantine (AQSIQ) speaks during a press conference held in Beijing September 17, 2008. [Xinhua]
BEIJING -- The Chinese government on Wednesday announced a comprehensive nationwide tests for melamine on every dairy product by every producer after a third infant died after drinking contaminated milk powder.

The third fatality occurred in the southeastern Zhejiang Province, Minister of Health Chen Zhu told a press conference in Beijing.

Chen gave no further information about the latest fatality.

Another 6,244 infants were ill after consuming the tainted formula as of 8 a.m. on Wednesday, including 158 with acute kidney failure, of which 94 were in stable condition, Chen said.

The country's quality watchdog, the State Administration of Quality Supervision, Inspection and Quarantine (AQSIQ), said it was going all out to test all dairy products and would publish the results promptly.

The agency had so far tested samples of baby formula milk powder produced by 109 companies, and found melamine in 69 samples from 22 companies, including those of leading producers like Mingniu and Yili.

Sanlu products were tested with the highest content of melamine: 2,563 mg per kg.
China has 175 infant milk powder producers, but 66 had stopped production of infant formula before the incident.

Two of the 22 tested companies -- Guangdong Yashili and Qingdao Suncare in east China's Shandong Province -- had exported products abroad.

The two producers have been exporting to Bangladesh, Myanmar, Yemen, Burundi and Gabon, Li said. Both had started recalls of their products.

The State Administration for Industry and Commerce, which supervises product quality at retail level, on Wednesday ordered all the tainted products to be immediately be taken off shelves.

The contaminated products were to be sealed at the site and kept from re-entering the market.

New Zealand dairy giant Fonterra, which owns a 43-percent stake in Sanlu, said on Tuesday that its own Chinese business had voluntarily recalled one batch of Anmum Materna milk.

The company said the particular batch had been manufactured and distributed under licence by Sanlu using what they believed to be contaminated local raw milk.

Melamine is a toxic chemical, banned in food. It is rich in nitrogen and was illegally added to raw milk for protein tests that register nitrogen levels.

Li said the agency would adjust its baby formula standards to allow tests of poisonous substances such as melamine. No melamine tests were conducted on dairy products in the past.

Chen said experts found no evidence, so far, that the chemical which mainly affects urinary systems could lead to tumors.

He said 4,917 infants with minor symptoms have been discharged from hospitals after receiving medical treatment. The remaining 1,327, mostly newborns, remained hospitalized.

Most of the babies developed urinary problems, such as kidney stones, after consuming Sanlu milk powder for three to six months.

The first two deaths both occurred in northwest Gansu Province. A five-month-old boy died on May 1. An eight-month-old girl died on July 22.

Both babies were fed with Sanlu formula and suffered kidney failure.

As of Wednesday morning, the health ministry had received no reports of babies falling ill after drinking milk powder produced by other companies.

Chen also reassured the public that infants, even those critically ill, could recover if they received prompt treatment.

The dairy supply for the Beijing Olympic Games and Paralympic Games were untainted by melamine, Li told reporters.

All the food supply, including dairy products, were monitored from production to kitchen during the Olympics, he added.

Four local officials in north China's Hebei Province were fired on Tuesday in the aftermath of the baby milk powder scandal.

They were Zhang Fawang, vice mayor of Hebei provincial capital Shijiazhuang in charge of agricultural production, the city's animal husbandry administration chief Sun Renhu, Shijiazhuang Food and Drug Administration Bureau director Zhang Yi, and city Quality and Technical Inspection Bureau chief Li Zhiguo.

Tian Wenhua, the board chairwoman and general manager of Shijiazhuang-based Sanlu Group, was also removed from her posts at a board of directors meeting. Zhang Zhenling, Sanlu's vice president, apologized to the public on Monday.

The agency has started internal investigations to determine if there was any dereliction of duty in the tainted baby formula scandal, and Li said the agency would punish offenders according to the law.