Baby milk food produced by more companies are contaminated with melamine, a chemical blamed for causing kidney stones in more than 1,250 infants, two of who have died.
Till Monday, only Sanlu products were found with melamine, but tests conducted over the past week showed that 69 of the 491 batches were contaminated, said the General Administration of Quality Supervision, Inspection and Quarantine (AQSIQ).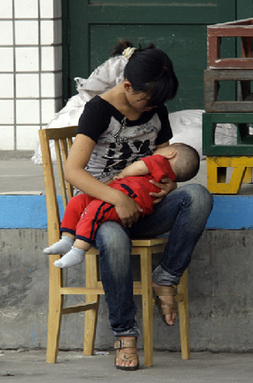 A woman breastfeeds her child on Tuesday as she waits, along with hundreds of others, as the Sanlu Group headquarters in Shijiazhuang, Hebei province, to get a refund fro the milk food she bought. [Agencies]
Which means products of 22 of the 109 milk food firms have failed the AQSIQ tests. All the tainted batches have been recalled and will be destroyed, the AQSIQ said in a report.

Apart from Hebei-based Sanlu Group, the firms whose products are contaminated include such dairy giants as the Yili and Mengniu groups, both based in the Inner Mongolia autonomous region, and Shanghai-based Bright Dairy.

The AQSIQ report, however, said no contamination was found in samples of milk food exported or supplied (exclusively by Yili) to the Beijing Olympic and Paralympic villages.

The Guangdong-based Yashili Group is the only tainted firm to have exported some products to Bangladesh, Yemen and Myanmar, the report said. But tests on the export batch samples found no melamine.

Ministry warning
The Ministry of Health yesterday warned that the number of ailing infants could rise as the search for victims expands.
And Vice-Minister of Health Ma Xiaowei urged all medical agencies to be prepared to treat babies for kidney stones as more cases are likely to come to light.
Last night, the AQSIQ ordered a thorough investigation into all the tainted firms, and said quality control officers would be sent to all the 1,500 dairy firms in the country to conduct inspections.
All liquid milk packaged after Sept 14 is safe for human consumption, the report said, but it did not give the tests' results before that date.
Sanlu took its first administrative action after the milk food scandal broke out by sacking its board chairman and general manager Tian Wenhua.
The highest concentration of melamine was found in Sanlu products. Tests show every kg of Sanlu milk food contains 2.56 g of melamine, which can make milk appear rich in protein in quality tests. The chemical is usually used to make plates, bowls, mugs and sundry other products, but is banned from being used in the food industry.
The other tainted products contain between 0.09 mg to 619 mg of melamine per kg.
Two more arrested
Two more milk dealers were arrested in Hebei late on Monday for allegedly adulterating the products they sold to Sanlu to earn more money, taking the total arrest to four.
Twenty-two others have been detained for their alleged involvement in the scandal, Shi Guizhong, a spokesman for Hebei provincial public security bureau, said.
The newly arrested dealers, both in the early 40s, were identified just as Ma and Zhao.
Ma, a resident of Luquan city, ran a farm in his hometown where some 400 cows gave about 3 tons of milk every day. Last November, Ma bought about 200 kg of melamine, which he used to mix with the fresh milk to artificially raise its "protein" content. Police have seized about 15 kg of melamine from his house.
Zhao, a native of Jinzhou city, worked as manager of a cattle-breeding farm in Dahe township of Luquan. Police said he bought four bags of melamine, 80 kg in total, to mix it with milk.
The Centre for Food Safety (FSC) of Hong Kong Tuesday said melamine had been found in an Yili ice bar sample in the special administrative region.
After testing 27 ice cream and milk samples, the FSC found a Shanghai-manufactured Yili product "Natural Choice Yogurt Flavored Ice Bar with Real Fruit" (90ml) to be contaminated with 15 ppm of melamine. Fifteen ppm means 15 mg in a kg.
"It will not cause huge health risk under normal consumption," a spokesman for the FSC said.
Chen Junshi, a senior researcher with the National Institute for Nutrition and Food Safety, said the tests show it has been a common practice in the industry to mix melamine with dairy products.